Welcome to the Wakefield Doctrine (the theory of clarks, scotts and rogers)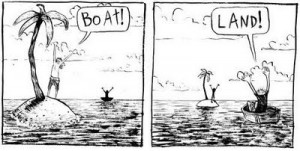 …so I said to (another) clark yesterday, "Did you ask so-and-so out, to that thing that you two were talking about?" and this clark said, "yeah, well no, but I think it will work out, I'm pretty sure that we'll both be there and we can hangout".
…and that old familiar feeling began to give a certain volume to my thoughts as I said, "what the hell are you talking about?! I was there, it was pretty much set right from the start."  The response: "well, I was thinking about it and I just need to figure out this one thing…."
I will save my subsequent rant for another time. Instead I will add to the Wakefield Doctrine 'Warning Label'
Wakefield Doctrine Warning Label

if you learn the characteristics of the three worldviews well enough to spot (the) clarks, scotts and rogers in your life, you may find that you cannot stop seeing the clarks, scotts and rogers in your world
if you are a clark and you learn about the worldview of the Outsider, you may find yourself becoming frustrated with other clarks in your life, when they are being extremely (and self-destructively/defeatingly) clarklike and in the middle of your impassioned (and detailed) and totally correct rant (meant to help them overcome this), you will realize that you, yourself, are still subject to these same…. conditions of the reality of the Outsider
…however, with this realization you will find hope, not only for the person you know you can help, but for yourself…somehow, (you're not really sure how, but you know it's got to be true)
if you are a scott and you learn about the Wakefield Doctrine enough to find yourself thinking, 'hey! thats one of those clarks, I knew there was something I liked about him/her', the next thing you will think is:  "what the fuck?!  I let them get away!!"  (but you will laugh it off and go find yourself some rogers, they're easy)
if you're a roger and you learn enough about the Wakefield Doctrine you may find yourself not enjoying the good-natured ribbing you and everyone at your table in the cafeteria are giving that new girl in the sales department (after she's left and returned to her desk) and even though it's a fact that she is strange with that hair and those boots and how she seems to talk to herself… it starts to bother you about how all your friends are laughing at her, but you decide that you're be extra nice the next time…which makes you feel good about yourself…so good that you decide you really should stop by her desk and tell her about your decision to help her
Hey!!  I need to write a Post about the Wakefield Doctrine! (lol, yeah I know)  Anyway…if you were an Editor and I had a book on your desk (this book has everything about the Doctrine that you know and everything as it is contained in the pages of the blog) what 2 suggestions would you make?
Daily A's and Z'ss  Challenge
Lizzi:  she gots some good stuff going on over at Consideringseses 
zoe:   very interesting (and informative) Post  I really like the kind of information that she's providing in these Posts… the stuff you never thought to look up, but it will totally amaze the friends the next time you're all hanging out playing… 'how long can this roger go on about how intelligent they want every to believe they are' …. lol  (yes, this appears to be Filter-less Wednesday!)  Read This Thing!!
Jean  no!  no!  wait!! this line alone is worth the trip,  "She looks to be around 80 feet tall and she's only two years old! I wonder how tall she will be when she is TEN?"
Dyanne  oh Dy….annnne!!  wakey wakey!!!  (while we allow the time zone to adjust, here is our scott-of-the-Prairie's post from yesterday:  SSSS
* to be fair and, god forbid we should run the risk of disappointing anyone, following is an actual Desert Island joke:
A blonde, a brunette and a redhead were stuck on an island for many, many years until one day they found a magic lamp.

They rubbed it hard and out popped a genie. He said that he could only give three wishes so since there were three girls, each would get one wish.

The redhead went first. "I hate it here. It is too hot and boring. I want to go home!" "Okay," replied the genie.

And off she went.

Then the brunette went. "I miss my family, my friends and relatives. I want to go home, too!!"

And off she went.

The blonde started crying and said, "I wish my friends were back here!"