Welcome to the Wakefield Doctrine (the theory of clarks, scotts and rogers)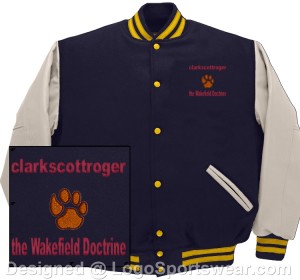 1) the near-endless repository of information that is the internet, for clarks it's a un-spoken dream come true. To have, within a few key strokes, such a breadth of knowledge and information, and it (the internet and the gnome-like browsers), not only offers information, it helps us find what we think we're looking for, with only the flimsiest of connections to what we seek.
2) used bookstores… while I have not been in one in too many years, a used books stores is not, (in my experience), simply a store that sells books that can't make on the shelves of Barnes & Noble.  A (proper) used bookstore sells book that, probably, were never on the shelf of a bright, well-lit, well-organised new book store. And, a new bookstore with their neatly arranged rows will never smell like a used book store. More the loss for the future generations.  The smell of a used bookstore, the smell of time and age, mildew and paper, is one of those environmental experiences that we all have had, but no one has tried to capitalize on: used bookstores, bowling alleys, indoor swimming pools, the lobby of a movie theater, mimeograph printing, and the smell of alcohol in a doctor's office.
3) (a slight re-statement of number 1) is why lyrics are so subjective… it's not just that we get don't understand them, or we learn them incorrectly or that we forget them…. in order to stay in our heads, we have to re-create the song and the lyrics are the one's that make sense (in our heads). Today's sub-title is a lyric from an old bluegrass song, 'Will the circle be un-broken'. This morning, when I searched the lyrics on line, I found at least two variations on just this one line (of the song). I used the one you see, because I thought that those were the words that conveyed the feeling (of the song) the best…see what I mean?
4) I would normally go to a hypo-grateful item here, this Season, the time of year… but, I suspect that, like a song lyric, my experience with autumn will not translate to another's experience, unless they are matching. (No, it's not you. I totally lost track of that last statement). Anyway, Fall as always been a …not really depressing,  more conducive to feeling less energetic and, because of that, more prone to the passive negative emotions. In any event, this song (especially the opening lines) totally captures my feeling of Autumn
5) seasonal alert for our scottian friends. Now, we're not Doctors (here at the Wakefield Doctrine), but we will say that there is a very high correlation between those with a scottian predominant worldview and the incidence of seasonal affective disorder. (Not only are we not doctors, but we couldn't define Seasonal Affective Disorder, even if promised that we could go back in time to high school and be given a jacket that we could wear that would make everyone perceive us as scotts. Which would make high school so much better an experience, at least until it came time to take the SATs) But….but! the scotts I know who are able to spend even a little time in areas with longer days (during the winter), feel much, much better for it.
6) This is a do-it-yourself Gratitude Item.  You have a clark and a Halloween costume party and a limitless budget, but only one day to prepare. what do you have them go as?
7) The lawn is done for the year. The basic lawn is established and we have re-adjusted our turning-the-car-around habits to avoid driving up on the grass, the rest will happen next spring.
8) Only 57 more Days Until Winter is over!
9) You know, there are 7 Guard Virgins. There are 3 male-based Virgins and 4 of the female persuasion. Fine. Nothing controversial there! We also know that they serve to maintain the integrity of the TToT. That there is a Book of Secret Rules (aka the Secret Book of Rules), guaranteed that there would be Guard Virgins, not because we (collectively) cannot be trusted to not abuse the Rule, but more to allow those who need to bend the Rules due to special circumstance or a transitory condition, the temporary blessings of this bloghop, without inviting anarchy. Like the girl who always got picked to sit at the Teacher's desk when said Teacher had to leave the room… it was never a boy (though, for those of you out there who are bouncing in your sit, waving your hand at the monitor saying. 'it happened in my school!!! there was a boy picked to monitor!!!!  we'll just say, 'yes, of course there was and he was a roger….roger' But you get my drift on the SGV. We have them because we need them, we need them because we know how someone always is, and therefore, if we start to picture the Seven Guard Virgins, in their dressing rooms (no, totally not co-ed)…. if we sneak up, the accents shaping the conversations we overhear are somehow familiar.
10) even though I still start writing this Post early on Saturday morning and then don't get to come back to read/write Comments until the end of the day, I am grateful to Lizzi for creating this thing, and even though we don't get to chat as much, (she has those AP classes that, (we all knew she was destined to be moved up to)….and cheerleader practice…. which we also knew that she could do, even when she didn't… when we pass in the halls, the look we share is still the same one that goes all the way back to the beginning, the look of knowing what the world is like inside…)
 Your hosts
Join the Ten Things of Thankful Facebook Group