Welcome to the Wakefield Doctrine (the theory of clarks, scotts and rogers)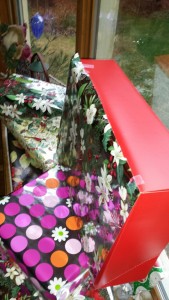 Christmas was 2 days ago. This is the weekly  'Ten Things of Thankful' bloghop, I have a Post to write…. how hard can it be?
1) Shoes. New. photo:  These are the shoes that Phyllis bought me. I liked the ones without feet in them, she insisted on including the ones that I'm wearing in the photo. As we walked out of the store, Phyllis said, 'think of this as part of celebrating your clarklike nature'. She was referring to the fact that the shoes (that she really liked), were of some kind of suede-like material, black and yet still evocative of wingtip shoes. It's hard to see the wingtip row of holes in the photo. I liked the other pair of shoes because they were new and (as a clark, while I have a decent sense of fashion, a natural affinity for the better quality of clothing, I do not have enough of a sense of 'dressing well' and subsequently I will wear clothes until they are literally falling apart. (Of the three worldviews, rogers have the most developed sense of fashion and scotts have the most ruthlessly effective fashion sense and clarks, well we're creative).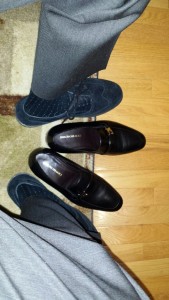 2) Christmas card. Yeah, I know, how often has anyone heard me say, 'I'm really grateful for the Christmas card I received in the mail'?  Well, I'd estimate  about 45 x 10'never!' lol  However, Wednesday evening Phyllis came home and said, 'you have a card in the mail!'  and I was all, 'oh really?'  I looked at the return address and saw it was from Kristi (K2). I thought, 'cool! all the way from the blogosphere!' So it went up on the window, where Phyllis puts the cards that she gets us… Christmas cards in the home of a roger is the equivalent of diplomas on the wall of your doctor or accountant
3) While Phyllis approaches Christmas from a more mainstream, aka normal perspective, what with the enjoying the sharing of the seasonal good cheer with family, friends and near-strangers.. I'm glad she has a certain less-than-rigid-rogerian expectation for 'the Right Way', at least when it comes to wrapping presents. The photo at the top of this Post shows the last present I wrapped on Tuesday evening.
4) Una enjoyed her Christmas presents. (Yes, we* wrap them and hand them to her as we exchange our own gifts on Christmas morning. She does quite a good job of tearing away the paper and pulling the toy out.) We did not take any videos this year. But it was cute.
5) I am grateful for the moderate winter so far…in our area, (southern New England), no snow.  Winter doesn't get much better than that, short of catastrophic global warming.
6) I (remain) ever grateful for the Wakefield Doctrine. While the prospect of spending 4 plus years writing blog Posts on the same topic,  'the theory of clarks, scotts and rogers', (this TToT being a partial exception), may seem to some to be daunting and limited, I have yet sat down and regretted owning a computer.
7) the Book of Secret Rules/Secret Book of Rules, (for many of us here at 'the-bloghop-that-Lizzi-built', the BoSR/SBoR is like the childhood friend that your parents insisted was a bad influence and how you would do better to find another friend. (yeah, for most of us, that would have been our scottian friend).
8) …in a slightly odd way** I really enjoyed Christine's Christmas Family Newsletter Post the other day. The modern-day equivalent of the vacation slides***  the cool thing was that, as I read her Post, I found myself thinking,  'I knew that already!… I heard about it when it happened!'  Kinda cool… realizing how I (apparently) know about the course of the lives of a number of people who are spread out across the globe, all because of the internet and the Wakefield Doctrine blog.
9) 

  Susan Z Surprise Question/Item 9!!   
We all went to grade school, call it 6 to 8 years.
What Grade comes to mind first?
What do you remember about that Grade…
3rd Grade come to mind. I spent a lot of time after school writing spelling words (as punishment). I was a bit of a disciplinary problem at that stage, much time in the Principal's Office along with my scottian best friend. (in the way of clark/scott friendships, I would come up with the ideas, plans, smartass remarks and Alan (the scott) would actually do them/say them/get others to participate, of course, I got in trouble along with him, so the behind-the-scenes thing wasn't really working as well as one might hope.
10) SBoR 1.3
 Your hosts
Join the Ten Things of Thankful Facebook Group


* by 'we', I mean, of course, 'Phyllis'
** yeah,  finally!
*** you went on vacation and your parents took the camera (35 mm film) out of storage on the top shelf in their closet and returned with a ton of photos and then had all 235 photos converted to slides (color transparencies that were mounted in little square cardboard things that were, in turn, put in a carousel that went in the projector). ('Honey! is the phone book in the kitchen, I need to tilt this more') and one Saturday evening you would have dinner way early and the smell of that purple perfume from your parents bedroom signaled an adult gathering at the house. You were expected to go to bed early and not come downstairs, no matter how wonderful the salted cocktail peanuts smelled. The 'company ashtrays' would be out on the end tables along with the coasters for the drinks. Sometimes the carousel would get dropped and the slides would be in total random order. …yeah, those slides