Welcome to the Wakefield Doctrine (the theory of clarks, scotts and rogers)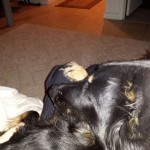 * Monday 01.20.14  well (water) service done on time with a 10% discount!   Enjoy the traditional greeting from Una (and the photo I thought to take with my phone turns out to be useful as a Post photo)
* Tuesday 01.21.14 ……      (shit!  forgot to write contemporaneous Gratitude item!)
I will begin today's Post by saying, "Congratulations to Christine for her Award nomination,  'the 2014 Sheenazing Awards'.
I need to address my failed, write-like-a-real-person, effort for this today's TToT Post. I will, however, take credit for 1 1/2 items. (no, make that 2 and 1/2 items)…. wait… wait!  (I'm re-reading Item 1  service man on time? 1,  get a discount? (jeez kind of a girl thing, but what the hell…. 2)  greeting from Una (I walk in… she waits on the couch, I sit at one end of said couch, she sits sorta on a lap(photo above) and we discuss our day…. gonna have to go with 1 item there, that takes us up to 3 and finally, I thought to use my phone for a photo and it turned out useable… that's Number 4.  And since, I'm going with the by-the-numbers-verifiable-gratitudinous items, while I'm not grateful that I totally forget to continue my day-by-day effort, the Tuesday entry above forms my jumping off point, so 5 it is!
6) the Comments, thoughts, feedback and input from the people responding to a couple of Posts here at the Doctrine this week. I have difficulty relating myself to people who are saying nice thing to and about me, but they did and I respect them enough not to get all…."no!  no, you're just saying that to make me feel good".
7) vid chat last night with zoe and Michelle, we covered a lot of ground and I came to several points-of-understanding and appreciation of and for: the Wakefield Doctrine, the workings of (the individual's) worldview and insight and encouragement for my efforts to continue working on this thing  you know, the fun of the Doctrine for clarks
8) with yesterday's Post, the Sunshire Award thing… yet another experience that results in my being more than I was the day before, pretty much due to the response of the people involved…nothing clarkweird or obtuse, simply was fun!
9) Work today.  Holy shit!  an actual contemporaneous grat list item!! yahoo! 'Gratitude item' experienced and expressed in relatively, nearly, realtime!)
10) I should explain what my thinking behind today's list, for the benefit of my new co-hostettes (Sandy and Lisa), new Readers who might be joining us for the first time…and any rogers who might have stopped by, thinking they heard the sound of a crowd.
yes, time to get to the aforementioned work, I will stop by at various points in the day to read and Comment…. everyone comment on this Post, please. Thank you. Thank you very much.
 Your hosts