Welcome to the Wakefield Doctrine (the theory of clarks, scotts and rogers)
Ever find yourself (probably as a kid, 'cause if it happened nowadays, you'd be reading this from a hospital bed) running so fast that your head was leading your feet so much as to create a very real risk of falling. And, despite a patently justified urgency surrounding this sense of disequilibrium, a part of you insists there's plenty of time to make a decision, (slow down head/speed up feet). That's kind of how this week ended for me. As a result, I will ask that you bear with me, as my narrative may become somewhat… 'loosely bound'*
The photo up there? Ola at age … 6 months(?)  I have Y-Chrome Syndrome (which, as everyone knows, presents as a marked predisposition towards birthday/anniversary-lexia. Item 3 below will provide a more cogent context.)
1)  Lets start with technology as Item 1 on this week's 'oT.  Pick a device, any device! Phones and computers, cars and cameras. Especially the cameras, which is worthy of note, given I'm a clark. clarks are, of course, famously photophobic. Want a quick way to spot the clark at the family reunion? The person behind the camera, every time.
2) I'll mention the Wakefield Doctrine here at Number Two, even though (or perhaps, because), I'll be citing Doctrine chapter and verse throughout the post. All around fun and scary efficacious.1
3) Phyllis and Una and I were sitting in my 'office' while I typed the first draft of this Post and, for some reason, we started talking about Ola, more precisely, we were remembering 'Ola stories'. I think it started when one of us mentioned Una's habit of barking when either of us leave in the morning. Phyllis recalled how Ola, as a very young dog, used to sit in the bathtub as we tried to leave for work. Clearly her (Ola, not Phyllis) reasoning was that an Offer like that would not be so easily dismissed. Then there was the time, when Ola was teething, I decided the only safe place to leave her during the day was the kitchen. (We have a smallish galley kitchen, like a squared off 'U' cabinets, stove, refrigerator and vinyl floor.) So I blocked off the open end and left Ola with a full water bowl, a bunch of toys and a blanket (and I think the TV was on, for company, of course) and left for work. I happened to get home first that night and I walked through the dining area, (that 'elled' into the kitchen), and there was Ola. Sitting perfectly upright in the middle of the kitchen with a pile of vinyl flooring scattered about, the entire floor removed. Ola was looking at me, the way that dogs do so very well, "Hi! Look!! Look at what I did!" (wag wag wag). So I looked at her and said "What a good girl! Such a day's work!" And Ola's tail, which had been slowly, modestly wagging, went into full sweep.
We both loved Ola very much. And she loved us.
4) Work…. ayiiee! Always an opportunity to become aware of how frequently fear is a factor in my everyday decision-making. When I'm lucky, I notice it early enough to make a (slightly) different decision.
5) Una. She is the most athletic, (in a Nadia Comaneci sort of way), dog that we've had. She has an astounding ability to spring upwards. Like, she'd be standing in front of the couch, and then she be on the couch, no need to flex her muscles, no running start. Four feet on the floor. Four feet on the couch. And, she's not a big dog, so it's not like with Bella or Ola, both of whom could simple step up onto the couch.
6) Gravity Challenge…. hard to believe that we've been doing this thing for…hold on, let me go look a ling time. damn! Every day except Sunday. You should join us.
7) How about a little BoSR/SBoR Primer…. although everyone pretty much has the idea, i.e. if you find yourself struggling with coming up with as many Items as you had hoped for, or you have a situation and you think it might not qualify as a Grat item, or you're like me and kinda want to have fun with serious things, then the Book is there. Some one, it might have been, Jo or maybe it was Kerry in any event they restated the concept of 'hypo-gratitude' way better than I could…. and it's that (kind of) approach that makes the TToT such an inclusive and fun 'hop.
8) Gotta save me a couple of places for the rollout of  'Home and Heart' (a Sister Margaret Ryan novel) I'll post the link to Chapter 1 here and ask those so inclined to go to the jukepop site to read the Chapter and vote (cause they have a thing where you vote and comment and such). I will also be messaging out the Chapter links in 'the Facebook' to all of them what indicated an interested.
9) Josie for opening the doors to this place each weekend, welcoming those who have never been here and maintaining the kind of continuity that keeps the best and allows for better.
10) Secret Rule 1.3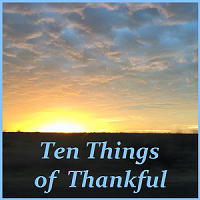 *  zoe's lips are now moving, expert lip-readers are looking puzzled as they say, "…coals to Newcastle" (?)
1)  I still can't find the word I'm looking for to describe the quality (of the Doctrine) that denotes having an accuracy of prediction, and further, asserts the validity of groupings of characteristics to one, (of each), of the three personality types. Example: rogers live in a quantifiable world, they like filmmaker Ken Burns's work… a lot, if they enjoy bicycling, they prefer to wear clothing with the logo of every major corporation, at least as many as will fit; if they have a workshop, (basement or garage), they not only will have an organized workshop, the workshop will include a pegboard for tools and, not only will they have a pegboard for tools, the pegboard will have the silhouette of each tool drawn out, one for each. That quality, theres a word of how these (among other) disparate characteristics hold true for rogers as well as do the counter part characteristic qualities for clarks and scotts do…. whatever that word is