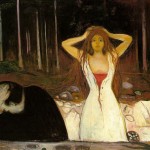 The Wakefield Doctrine is comprised (human being-wise) of a group of people referred to as Progenitors and DownSprings;  (the) clark, scott and roger being the Progenitors and everyone else being Downsprings.  (The original idea was that all would have a perspective on the theory of clarks, scotts and rogers and by contributing (to the blog) would allow us the broadest of appeal, in terms of making this thing accessible to the masses and the throngs who would surely be beating on our digital doors).  Well, maybe that was a little over-expectorant on our part (to coin a rogerian expression*).  However, back around last December,  the newest member of our group, a certain Ms. AKH, wrote a Post (sub) Titled:  "…scott/roger…couple in love…take 2…" .  The Post dealt with the question of how one (of the three types) view the other two types, in the context of a romantic relationship. (In AKH's case, from the perspective of a scottian female).  We got good Comment on it, so we have decided that we needed to tap that well/tree/source (complete the metaphor with the image of your choice, while still maintaining a modicum of decorum), one more time.  But since the original Post discussed the authors' relationship (at the time) and given the scottian propensity for, variety, shall we say?  Well in any event we asked her to be more general in her observations. So we pretended someone wrote to the Doctrine with questions, but we know that you know that we made them up. (You do know that, don't you? Come on people, there are not thought balloons over your heads like in old cartoons to tell us what you are thinking and besides I can't see you at your computers as you read this.  At least not at  this stage of the game.  No, that doesn't mean anything.  Of course, I know what you are thinking when you read this (allowing for whether you are a clark or a scott or a roger) and no, I do not need to prove that last statement…clark.  Let's stay focused on today's Post, shall we?)
So, let's get to the discussion of matters relationistic.
It has been said, scotts understand people instinctively, or maybe a better way to say that, 'scotts perceive people on a very visceral level';  so the questions being posed are meant as jumping off point.  It will be a focus on that condition of human nature called 'couplehood'.

CSR: So, Ms. Akh, welcome back, how have you been.
Ms. AKH: Great to be back!  While I was gone I received, it appears many, many questions from readers about "matters of the heart".  So today I'd like to re-visit the "Couples in Love"  forum and talk about the interdependency (that is) inherent in Couple-hood.  As you recall from that Post, my perspective on relationships was that of  a scottian female in a coupleness with a rogerian male.  But important  to remember is that we know from the Doctrine that all people begin the same; we all have the potential of all three types, clarks, scotts or rogers.  It is just that we end up becoming mostly one of the three.  That being said, we know that our partners must be one of the three.  And we've all had trouble in "couples-ville."  It is from the Principles of the Doctrine that this knowledge helps us to understand our partner and gives us the ability to apply this knowledge to our situations, good, bad or indifferent, in order to maximize the outcome of any situation.  And while this knowledge is power, we will all still question ourselves at times.  That being said, let's get to our reader's questions.
CSR: First off a question from a 'Reader' "I want to talk to my partner about our relationship and I can hear in my head what I want to say but in real life I freeze up"?
Ms. AKH: Sometimes discussing the relationship with our partner can be difficult because we don't necessarily want to  come across as being presumptuous. There is the inherent fear that we might say something that will upset our partners or even drive them away.  But it is necessary.  If we can't talk to our other half, that in itself becomes the problem.  Remember, understanding that your partner is a clark, scott or roger allows you to see things from their perspective, to appreciate their point of view and that is huge!  Most problems between people begins with the fact that we all have a different point of view, that we all, in fact have a different reality.  This difference is often small, but may be great and all of our actions and decisions come from how we are experiencing the world.  It is when we can 'see what they are seeing", we can understand why the other person in a relationship acts the way they do.  So let's look at our "other halfs".  scotts are the toughest.  They think they already know everything.  Confront them head on, don't bother trying to tell them that 'black is really white. They don't see that there are subtleties and there can be shades of grey, for them it is either black or it is white, anything else and they lose interest.  With rogers, it is usually best to approach with kid gloves on, they are geared to respond to anything but complete agreement with a totally emotional reaction.  And as far as the clarks, well that's probably the most difficult bridge to establish, because it is always a challenge just to understand them.  But which ever your partner is, you should not be afraid to talk to them.  It is your responsibility, knowing of the Doctrine, to remember that neither a clark, scott nor roger can read your mind (although a scott thinks she can).  It is up to you to let your partner know what you are thinking, regardless of the outcome.    
 
CSR: Here a an email: "I don't hate the person I am with but I don't like how they act when they are with their old friend, friends from before we got together. It seems like he/she changes when they are with old friends even though I am there. What the fuck is that all about"?
Ms. AKH: Unfortunately, what you describe is not all that uncommon. (Perhaps you, unknowingly, do the same thing?) There is a tendency in all of us, clarks, scotts or rogers, to revert back to times gone by when among old friends from the past.  If we are part of a couple and do not share that 'past', we cannot help but feel left out.  We weren't part of "the gang."  This effect is more pronounced with scotts, as they have the need to be the center of everything to begin with and will become totally immersed in the 'pack' they are sharing.  rogers are the most in tune with history, especially personal history!  They will totally revert to the time past, so much so that if you were not a part of that past, you might think that they totally forget who you are!  They will reminisce with their friends and you might feel that they have forgotten you, and they have!  rogers live in the past anyway, but when in the company of friends that they share a past with, this effect becomes quite pronounced and can really piss you off.  When the other half (of your couplehood) is a clark, you will feel this "left behind" feeling the least.  Knowing which of the three (clark/scott/roger) your partner is will enable you to understand why they act the way they do and empower you to change how you feel and let you be more comfortable expressing it to your partner.  Sometimes the best thing to do is just roll your eyes and sit back and watch the show.  It's entirely up to you regardless which of the three (clark/scott/roger) your partner is.  Remember, you are capable of changing any situation.      
 
CSR: From our last reader…and maybe the last thing they intend to ask in what, if I may, seems a pretty pathetic excuse for a life. "I am alone, I want to meet someone, someone who will make my life better, who will let me have a life as a couple, how do I do that?  I am just a normal person, not overly anything.  How do I find Mr/MS Perfect?
Ms. AKH: We all "strive for that one person who will "complete" us.  Applying the Principles of the Wakefield Doctrine is the key.  Knowing "who" you are (clark/scott/roger) will give you the power to weed out those with whom you are the least compatible.  To find that special someone (clark/scott/roger) who will let you be you while being one of a couple, of two people, unless you are a scott and then maybe more than one.  Ultimately only you can make your life better.  None of us are just "normal" people.  We all possess the knowledge, the power and therefore only we ourselves have the responsibilty to make the decisions that will ultimately be in our favor.  The Wakefield Doctrine gives us the key to understanding ourselves, but more importantly understanding those around us.  Use these tools to your maximum benefit and give that self-esteem a boost.  No one is going to be perfect.  But if you use the knowledge to empower yourself and your situation you may just surprise yourself.  And don't settle for just anyone.  Only you can make your life better.  And when that special person comes along (and he/she will), your life as a couple will be that much more gratifying/satisfying/multiplying.
So remember folks, it is up to you to.  We all have the ability to change anything.  So don't let yourself become a "fool in love."
Well, said!  I know I speak for all our Readers when I say, thank you.  There is a certain refreshing…simplicity…make that clarity, to how you people see the world…granted not everyone has the requisite…'nerve' to interact with the scottian member of the opposite sex, not counting rogers, of course…they have that affinity for scotts as you noted in the first Post.  But for others, hey no guts, no glory.  Thanks again.
*(rogerian expression: look up it! Page on rogers. jeez totally basic concept, you can't not know what a rogerian expression is..)