Welcome to the Wakefield Doctrine (the theory of clarks, scotts and rogers)
This is…the Ten Things of Thankful.
The TToT is a bloghop with, (the sharing), of, (experiences), of gratitude as it's theme, raison d'être (far be it from me to not use a less used word or phrase, thats why god invented the internet…isn't it?). Each week, our host, Josie Two Shoes makes available her website along with a linking tool, so that those of such mind, not only might make available their reflections upon, insights into and general thoughts on how this mysterious thing, this emotion, 'gratitude' permeates the world. Provided, of course,  you are able to perceive it. (And no, I did not just have a brief visual that included Marie Curie and several apocryphal stories (from college days) about how her coffin is lead- lined, but, under certain conditions, at night, one can detect a greenish glow around here gravesite. I've included the link to her wikipedia entry for the clarks out there. (Hey! according to the entry, Marie coined the word, 'radioactive'. Hard to be cooler than that! I know that fact is certainly important to 'The Firm'.))
So, lets begin.
1)  the Internet.
2) technology in general. I don't go out on much a limb if I say there is no area or aspect of our experience of the world that we do not feel the effects of technology; from baby monitors to CCTV cameras staring at intersections, keyboards and computers, (there's an old joke/advertisement from back in the day, when magazines were the manifestation of the social media… admittedly uni-directional and passive, but you might sit in a barbershop on a Saturday morning amid the aroma of morning sweat and Brylcreem and pick up a magazine and share (or, rather have a common experience), with countless others in the luridly optimistic articles of Popular Mechanics or Hunting Life or (here courtesy of Item 1:)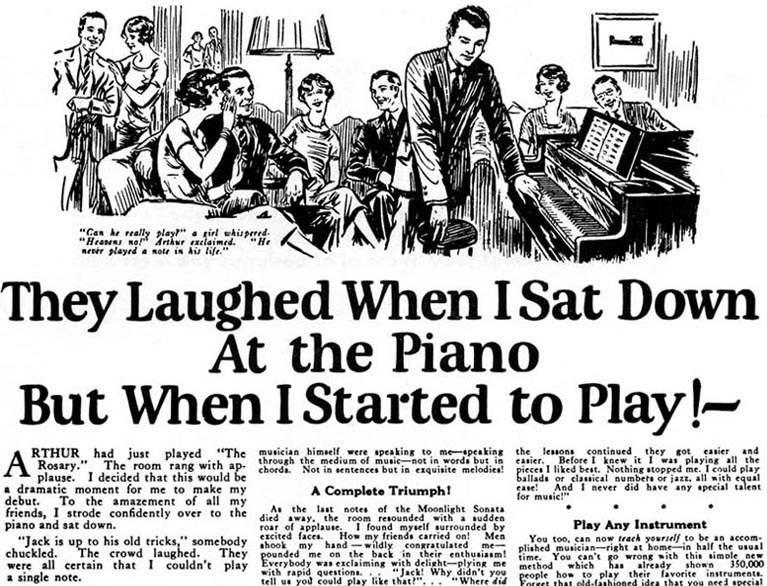 3) (Hey is it just me* or does that advertisement remind you of 'the Facebook'? You know, that constant emotion-numbing drumbeat of the imaginary underdog, the linchpin of the new mythos of the secret/imaginary power of the individual?…. lol  no, really, I mean the posts that always end with "when she started to sing/his comeback floored/the judges' reactions…."  It, (the underlying pitch), here in the ad is the same as it is today, except then it was a one-way, passive media.
4) *lol… zoe not a whisper about, experiential-lensing of megalomaniacal curiosity**
5) ** not a 'real' word… this, btw, is a genuine Item of Thankful. The atmosphere that Josie and the others nurture, here each weekend, totally freedom hall. Which is a good thing for those of us less…. organized in our thinking, coherent in our writing and sensitive to the shades of emotion. Thanks!
6) Shout out to the Graviteers!  Every day, (except on Sundays), we send in photos of our scale readouts and, through the magic of technology, lend (and take) support from each others' experiences as we all alter the degree of attraction to the center of the earth that our bodies possess.
7) 'Home and Heart' Chapter 13 (and probably Chapter 14) will be out early this week. [Teaser: Sister Margaret is (somewhat reluctantly) on a mission to do something about her mother's home being foreclosed on… her reluctance in no small part due to the fact that she must draw upon skills acquired in the part of her life that preceded finding peace and happiness in the company of the Sisters at St. Dominique's. Sister Ryan is surprised to learn of an ally in her effort. Arlen and Drusilla arrive in Miami and meet with the owner of the Bernebau Company… they learn that, to no surprise, many of the rumours*** about Cyrus St Loreto are un-founded, tales to frighten junior executives. They, Drusilla and Arlen do, however, confront the less common observation, that 'truth is sometimes better disguised as lies.'] Join us at jukepop and don't forget to vote!
8) Una and Phyllis of course!  9)  Garden Update!  (photo to follow this afternoon, hopefully the rain will stop long enough to get us some photation.)
combined in a video (sorta)
10) SR 1.3
***  spelling for Founderess Lizzi