Welcome to the Wakefield Doctrine (the theory of clarks, scotts and rogers)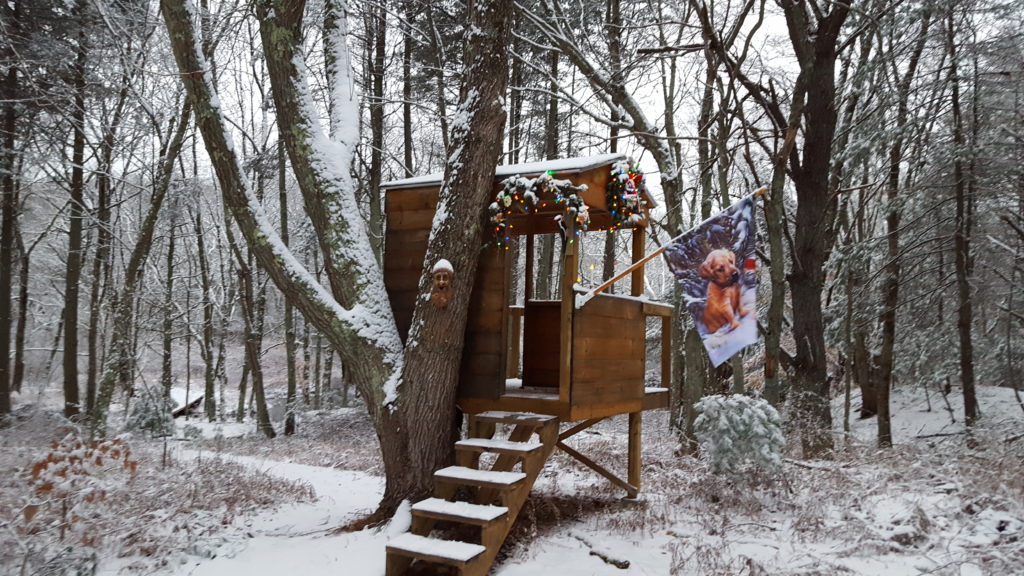 'Currier, Ives and …Puppy'
(Landscape orientation)
Phyllis's treehouse on a snowy Saturday afternoon.
The trees are a frustrated child's attempts to draw a straight line, up and down. The Number 1 soft-graphite pencil a not-so-un-witting accomplice in the filling of the page with dark lines. The snow on the ground matches the cloud-painted sky. We choose to see it as the sky, as it appears opposite the colorless ground.
We identify the ground because it supports the one element of color, the treehouse and it's banner flag appended to the side at an angle.
The flag is a rectangle on end with it's right edge sliced by gravity on the diagonal. We do see a Labrador-looking puppy in the center of this flag, poised, it might seem to those of us with less mental discipline, to jump to ground and play in the snow.
1) Climate-appropriate change in weather. Makes for interesting photos.
2) Phyllis and Una. Both are the 'qua' in my 'sine qua non' (being my all time favorite latin phrase)
3) the remarkable depth of writing over to Kristi Campbell's 'hop FTSF
4) the opportunity to wrestle with the everyday bindings of routine and, at times, gain enough slack in the life-colored ropes to practice writing, such as this week over to zoe's Six Sentence Story
5) the Wakefield Doctrine (which, to get all allegorical (or metaphorical or whatever the cool sounding term is), was the bus ticket found at the side of the road one day that has totally taken me to a place I would not have gone.
6) The Book of Secret Rules (aka the Secret Book of Rules) the freedom to write whatever is enjoyable (with the stipulation that: "[w]hen shooting off on a tangent, the basis and a priori justification need be cited or otherwise referenced. Exceptions allowed to the (Rule), if and, conditional on the acquiescence of putative Readers, the writer clearly states, "well,  ….because! that's why!")
7) Video
8) hey! New(er) Readers and/or TToT participants!! Did you know there's a (valid) concept referred to as 'hypo-gratitude' (or commonly, 'hypo-grat')  ex.  "Hey, it snowed yesterday! That's a total hypo-grat on my TToT!" (note: as Josie Two Shoes (our hostinae) will remind us, there are no rules. There are, however, shared expectations. And first among these shared expectations is 'good intent'. So (an) Item of Hypo-gratitudeness should contain an element of humor (whimsy is allowable as substitute)
9) photo (to follow)
10) SR 1.3
somewhat way back in time… (yes, as a matter of fact, I did wear bell-bottom pants but did not wear a fringe jacket)