Welcome to the Wakefield Doctrine (the theory of clarks, scotts and rogers)
Well, you have Friend of the Doctrine, Pat B to blame for this week's…pastiche (aka Doctrine writing-style train wreck lol). Granted, I was on the fence as to the approach to this week's TToT. (New Readers/Participants? Each week Josie Two Shoes organizes and opens the door to the TToT bloghop. As the name implies, the theme is gratitude and the ambition is ten (items that serve as illustrations or examples of what ignites a feeling of gratitude). What Josie provides is that sense that it's all about the good intent and not the rules or standards or format of presentation.
Good thing, too. As I was saying in my lead-in. I had a couple of ideas for this week, but they were starting to feel like they might be pushing the bounds. Then I got a Comment from Pat on this week's Six Sentence Story that spoke to the idea that many of us use these bloghops as opportunities to practice our writing and try things out, writistically-speaking, "...If it were not for those in this blogging world who are so accepting of those who try." And, of all the 'hops I participate in, the TToT is the most refrigerator-magnet conducive to those of us who get a kick out of writing for the fun of it.
Hey! That not only should be Number one this week, but it's totally a prompt for a photo!
1) refrigerators as: galeries d'art amateur et de littérature
Well, one of the things I thought I'd try this week was to write some Grat Items in the style of the pulp detective stories (a writing style I really want to learn).
2) Una. "The file said, 'Chodský pes' and if I've learned one thing from my years as a gumshoe, its that slashes over letters usually spell trouble. My client and I stood at the window as the black SUV ate it's headlights off the gravel driveway and parked in front the house. We thought we could hear barking."
3) Phyllis "There's a saying, 'a person who needs people is luckiest person in the world', well, in my line of work, those are clients. Lucky is not usually how they feel when they pay my fee. This one was different. The people in her life were the lucky one. I still cashed her check."
4) Work The photo at the top of this week's post is from yesterday. I have clients looking for something on the water and so… the pain of being a real estate broker. lol.
5) Treehouse: Although a legitimate 'standalone' grat, the treehouse serves as an example of Phyllis's (Item 3) capacity for wonder and (her) immunity to the forces that insist we all grow up and leave the childhood world behind.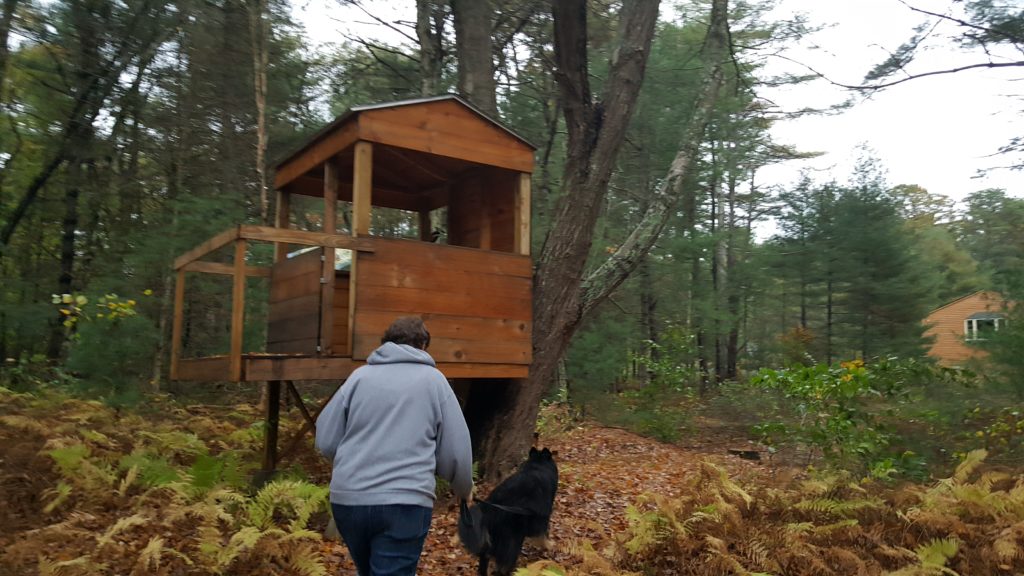 6) Houseguests
Not the brightest of birds in the world. That said, we didn't see a single turkey until yesterday, a full week after Thanksgiving.
7) the Book of Secret Rules (aka the Secret Book of Rules) ("I was still on the force, paid by the week to obey someone else's rules, when an old flatfoot by the name of Shaughnessy gave me advice that I've never forgotten. "Kid, it ain't the procedures that ya gotta worry about. It's the secret rules. Thems the ones that get made up by the guys that don't need procedures" I heard he lived all of a week after hanging up the uniform. Too much change can kill a guy.")
8) the Guest Room/ Guest Grat.  (this space reserved for anyone who might have a Grat Item but not the time to do a full-on TToT. Send it in and you can be a guest of the Wakefield Doctrine this week. (… yeah, you might want to talk to some of the other writers, the less… outré  lol they'll give ya the scoop)
9) the Wakefield Doctrine (the theory of clarks, scotts and rogers)
10) Secret Rule 1.3