Welcome to the Wakefield Doctrine (the theory of clarks, scotts and rogers)
This is the weekend. There is a little blue rectangle at Josie Two Shoes's blog where you can add your own TToT post. Go ahead. That way, when you have a minute in the course of the weekend you can click on one (or the other) and read a list of Ten Things of Thankful (or two or five) created by another person from somewhere on the planet. It's enjoyable and it's useful and, for those among us who make the effort to cultivate the gratitudinous view of life, it pretty darn beneficial.
Josie provides the common ground, everyone contributes to the attitude. Pretty simple, isn't it?
1) Phyllis and her ancient friend (See Item 8)
2) Reptilian Cam ("ruunn Forest…Runn!")
3) Youtube still is such a wonderful resource. (video at bottom of post)
4) 'Home and Heart' it's on jukepop and it's a fun diversion as we enter the 'do you really want to go outside' season.
5) Life, death and defiance. Specifically as demonstrated (or would that be illustrated?) by the lone sunflower that survived the ravages of the 'Appetites of the Deers!'. A single plant lived long enough to make adulthood, only to be brought down by a weakness that was in part inherent and, at the same time, a lack in a sufficiently nurturing and supportive environment. It grew too tall, too thin. And as a result, the combination of wind and rain caused it to fall to the earth.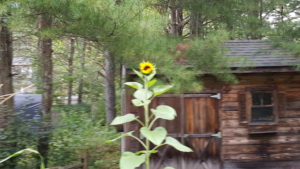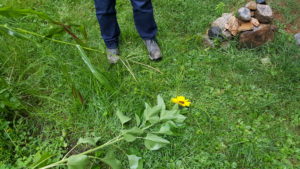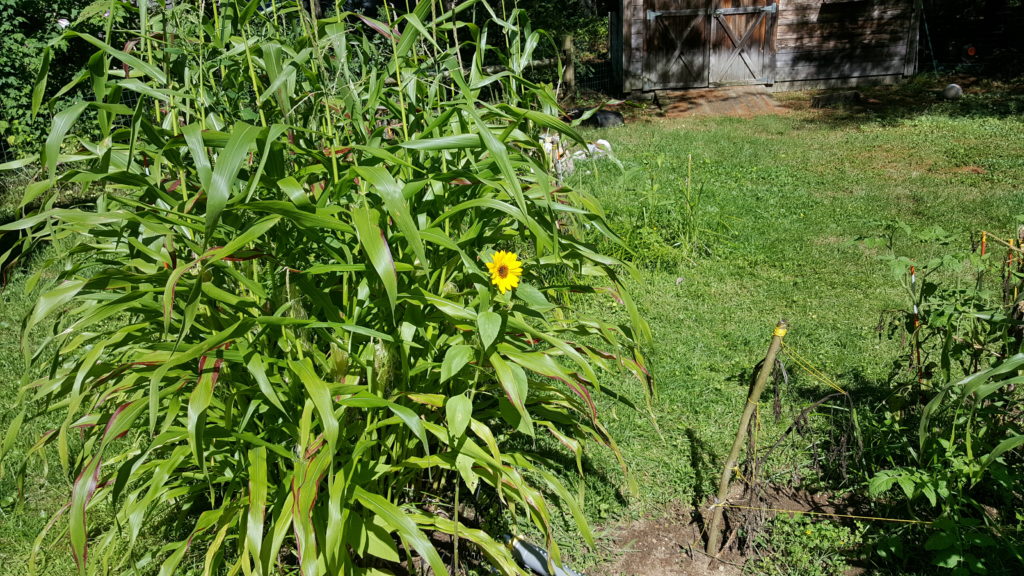 6) Grat Item Five (slight reprise) …and though we were saddened by the demise of the "Tallest flower in this whole damn yard", what do we see, a day or two later, than…. (hey! here's a cultural reference that is, hold on to your hats, less than 20 years old)… baby Groot.
7) Una. Because, well..duh.
8) So, Phyllis is in the house minding her own business and Una starts yelling, (aka barking like crazy). Loosely translated she was saying, "Hey!! Hey!!! There's something really strange in the yard. Don't you smell it??!! No?!?! Then come here and look!" So Phyllis looked and, from my post in the woods, I hear, "Hey Clark! Come here." I forward-fell up the path and through the woods and there, in the driveway, was an upside-down, painted tree stump. I stared. It ignored me. It moved. I smiled. The pieces of light and texture reassembled themselves, like in a cartoon where Wile E Coyote gets blown up by that fricken roadrunner and then all the parts draw together and the cartoon continues. So we did what any modern Jim Fowler and Marlin Perkins would do. (Cultural reference more than 10 years old. The universe does not suffer deviance.) We wrestled it to the ground, (which wasn't difficult) and threw it in the air (aka carried it, while wearing welder's gloves) down to the pond and lectured it on the advisability of staying doing what it knows, as opposed to exploring strange new worlds and driveways and roads. (Boy, have we turned old).
9) Sunday Supplement  Well, from a species point of view (or a rogerian point of view) Phyllis's visitor is kinda pre-historic.
10) Secret Rule 1.3 (From the Book of Secret Rules, aka the Secret Book of Rules. Considered by many to be the Solomon Stone for the most anemic of Lists of Ten things or any other endeavor, here in the land of consensual make-believe. The internet is, of course, full of advice. And, not surprisingly, a very common topic is writer's block. The BoSR/SBoR is both proof of the cause and surefire cure for 'I-can't-think-of-anything-to-write'/ 'I'm out of ideas-itis'. In fact, it's rumored that the preface of the original Secret Book, (in -6.66 font), it was written: "You have every word you had before being gripped by writer's block, therefore, barring any significant blow to the head, they are all still available. Stop writing 'to a standard' and go back to writing for yourself."