Welcome to the Wakefield Doctrine (the theory of clarks, scotts and rogers)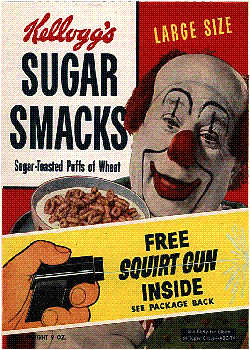 Yeah, it's one of those Saturdays. Ideas available, actually writing, as in typing and producing words and sentences, more elusive. Very reminiscent of Saturday mornings trying to reach the prize in the bottom of the box of Sugar Smacks. By unspoken rule, it was not permissible to pour every single, brown and light-brown football-shaped morsel out of the box and fish out the sought after item. You had to eat your way down to the bottom of the box. Given that breakfast cereal was available in the morning, and only in the morning, the process involved days, not hours. (Which, as we all know, to a child under 10 years old, means enduring what feels like weeks and months of waiting.) That it took a week or two before having the opportunity to get the 'Prize Inside', (and those in charge of marketing were, in no way ambiguous as to the character of the item; it was not a toy, it was not a tool, it was not even a gift…. it was a Prize! with all attendant emotional levy attached to any failure to be awarded the Prize), was not the worst part. The existence of siblings, was. Most, if not all siblings coveted 'the Prize' nearly as much as you did, which made the time between the arrival ('hey ma! don't forget!! Sugar Smacks!!") and possession of the Prize, every bit the pre-adolescent version of Spassky-Fisher (1972)  S4-B7 Casablanca B4-S5  to eat as much as possible or to watch and not eat, swooping in when the competing breakfasteer is in the bathroom, paying the price of over-confidence.
Oh man! It's Saturday near-night, 6:23 pm and all I have is my intro (that I wrote this morning and thought was hilarious …then) lol
1) Josie and the effort she puts into the weekly TToT. There is a great deal of work and effort behind a bloghop and, the ironic thing about those who work the hardest, is that it usually doesn't show. It's all, 'hey! look a bloghop and all that's required is that I link a post that describes 10 things that cause gratitude to break out.' cool
2) A good standby item is technology and I'll put it here at number 2 simply because I'm still trying to decide if I'll be using any of the photos or videos that I did today. That I can is a gift of the times, that I will, is another matter entirely.
3) Phyllis and Una are in my TToT each week because they form the central point of what I am here, in the 'sphere.
4) the Wakefield Doctrine is way up at the top of most lists because it is the reason I'm here writing. Had I not come to the point that I felt the need to delve into the virtual world by writing a blog for the express purpose of promoting this rather fun and useful personality theory, I totally would not be here, writing, today.
5) 'Home and Heart' specifically and writing, generally. Working on Chapter 3. This writing thing is all kinds of challenging. There's a lesson I try to remember whenever I get bogged down. That is simply to remember to get out of my own way. The story is already there, my characters know the story, all I have to do is get them to tell lit to me, so I can write it down. Simple idea. Easily forgotten when I let my brain get involved.
6) The Graviteers  over to the Gravity Challenge. val and lisa and joy and kristi and sarah and may
7) zoe's Six Sentence Story.… if school had been as positive a learning/skill-developing experience as that which zoe's created at her bloghop, one can only wonder where I might be today!
8) Book of Secret Rules (aka the Secret Book of Rules)
9) something something (left open for Sunday update!)
10) SR 1.3 the best of all Secret Rules!