Welcome to the Wakefield Doctrine (the theory of clarks, scotts and rogers)
A bunch of things this week. (It's been an established goal* here at the Doctrine to try to develop a writing style that permits me to write a direct, organized and straightforward List of Ten Things of Thankosity**)
Being Saturday, this is my TToT  (The TToT, hosted by Josie, is, as most good things, simplicity itself; write a post with whatever may have occurred or been encountered in the previous week, (or when you were in the second grade) that sparked a feeling of gratitude. It's not a bad use of words and sentences and grammar and such.)
For this week (I am grateful for):
Anonymous mugs
1) black with white dots
2) white with black dots
Weather:
3) sports coats
4) snow shovels
Work:
5) stress*** ('Fear's attractively dressed half-sister, who everyone wonders why you two can't settle down with and make a go of it)
6) satisfaction with occasionally over-coming my natural disinclination to live in the here and now and act genuinely.
Home:
7) Una
8) Phyllis
Misc:
9)  Friends and correspondents here in the 'sphere. It's a remarkable place.
10) Hey! New 'OT-teers! Totally grateful for reminding me of the essential spirit of this exercise.
Jo over at 'Fallen Angel' last week did an Item that illustrates best what I think I mean. She mentioned someone dying, which is usually a not-so-good thing but at the same time, found within that event something that engenders gratitude. And the cool thing about this blog is that by reading her post, I could, to a small and minor degree, identify with her.
 Monster Martha, another of the newer voices here shares that directness and economy of expression that shows itself so very strong when writing Posts focusing on gratitude. This influx of new people and blogs is, imo, one of the reasons that this bloghop is still as lively and satisfying as it was when it first started.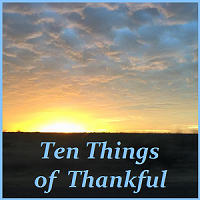 *  if not goal, then surely sub-text would designate the status of the ….ambition  there! that's the word I should've gone for, ambition
** yeah, if'n I only managed to leave the duct tape and finger-painted vocabulary back at the Doctrine, I might get a simple 'One through Ten' list written.
*** technically, stress would be an item of hypogratitude, which is a valid, if not somewhat weird approach to compiling items for our list each week. It's referenced in the BoSR/SBoR, I'll try to get a more comprehensive definition of the term and the SR that covers it's application in a list.