Welcome to the Wakefield Doctrine (the theory of clarks, scotts and rogers)
Not that the TToT is new, but, with any change* comes adjustment and, as the old saying reminds us, 'every required adjustment is an opportunity for improvement'. And, so, I will spend today, (and depending on reactions), a couple of weeks exploring new ways to participate in this totally self-beneficial exercise of examining the previous time period and describing those people, places and/or things that elicited a sense of gratitude, either at the time or, upon reflection.
With a name like 'Ten Things of Thankful' we can be forgiven for thinking that there is a certain, whats the right word…convention… order… procedure…. format! yeah, I like that one, a format for a Ten Things of Thankful bloghop post. Well, for a start, the word: 'Ten' is kinda suggestive. ok, thats enough understanding. As a clark, it's my god-given right to have such incredible self-confidence in a certain, albeit, limited aspect of myself, to infer the rest.
Since we have the need for 'Ten' things established, lets go ahead and deal with the time factor. This is a weekend 'hop. Therefore I have some time to complete this Post. I am, however, possessed of a surprisingly secure sense of the appreciation readers have for my written thoughts2… So I will start this post now, go out to work, and add to it at the end. Maybe I should re-post the final post, just to be safe, what do you think? Some say Poll? I'm glad…hell, I totally grateful that you said that.
1)  Grateful that someone suggested including a Poll in today's TToT and therefore giving me the first, often the most difficult, item
2) I'm glad I have time to think and wait for the answers.

3) Two definite items: Phyllis and Una

4) one more definite item, the Graviteers!

5) zoe and her Six Sentence Story bloghop

6) First Ride (after work) with Una
7) this just in…. Phyllis and Una on a walk in the Pachaug State Forest in Voluntown CT

8) more to follow…

9) a certain mug is making a stunning recovery…

10) SR 1.3**
*Wendy is now our hostinae for this weekly gratio-reflectatorium1
** SR 1.3 is the representation of the attitude of many who participate in the TToT… it is both acronym and perspective for and upon the process of writing about the things in our (individual) lifes that engender this most rare (for some few of us) of feelings. To be cont'd….
not a 'real' word
no, I'm serious! If we built another time machine and went back to June 8, 2009 and found me (you'd have to call me on the phone or write me a letter or email) and said, 'Hey clark, whats this about your having confidence-approaching-monster-ego-about-the-stuff-you-write-on-Facebook-and-in-your-blog? Of course we all love that stuff, why wouldn't we?'  I'd be, all, excuse me? write a blog? why on earth would anyone be interested in what I might describe in a 'blog'. (But a part me would feel hopeful and not tell you to get outa my face).
This is the Ten Things of Thankful so click on the Icon below and join us!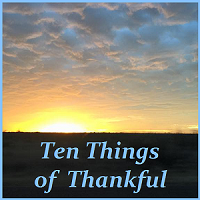 music?  oh yeah, I did say that…. here's  song Phyllis and I (being one of the more… unique couples have been listening to)