Welcome to the Wakefield Doctrine (the theory of clarks, scotts and rogers)
There's an old saying, 'a good thing that is shared, will never be lost'. This would very much be the case with the TToT. Originally created by Lizzi Lewis and shepherded through the early years (see photos below*), Our Miz Lewis did what all successful people do, she shared a passion.
Josie** has taken up the (there should be some humorous analogy here, but I can't think of one). Bottom line, she has taken the helm and the Ten Things of Thankful bloghop continues. The 'rules' are simple: share ten things that/for which you are grateful for, from the week immediately behind us or any time.
1) Lizzi for creating this thing
2) Josie for continuing this thing
3) the internet for providing the place for this thing
4) my work for allowing me the resources to afford the technology to access this thing
5) Phyllis for creating an environment in which I have become increasingly aware of the parts of my life that I can reference in this thing
6) the reasonable good-sense (almost) to know when a semi-clever rhetorical thing has run it's course, (fans of horses will applaud this description)
7) Una for being a constant power of example
8) I'm grateful for having come to know Almira Ristani Gulch, the co-central character in 'Almira'
9) I'm tempted to say, I'm grateful for having gotten this far in a list, which by virtue of being the first in the new order (of Ten Things of Thankful) without getting too weird
10) I glad that I didn't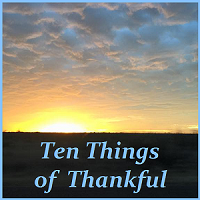 *and, before anyone find themselves thinking, 'my god is she all right?' let me say, 'of course she is, she's a clark and anyone can tell you, clarks are the damn Phoenixeses of personality types'. We keep doing creative things, establish them in the 'real' world and then, finding our endless curiosity pulling on our shirttails, wander off to find new and interesting ways to burst ourselfs into flame  (to the wonderment of our friends and the amusement of ourselves at how, 'we're alway doing that!')
** Josie, aka Wendy Harris  (hey zoe! could you explain to Josie how change resistant I am to name in the 'sphere? (go ahead and leave out the part about chronic-passive-aggressive, ego-centric insistence…. ok?"
So below here are the collection of photos I've acquired (no, I said she's doing fine)…. tell me about clarks and chameleons