Welcome to the Wakefield Doctrine (the theory of clarks, scotts and rogers)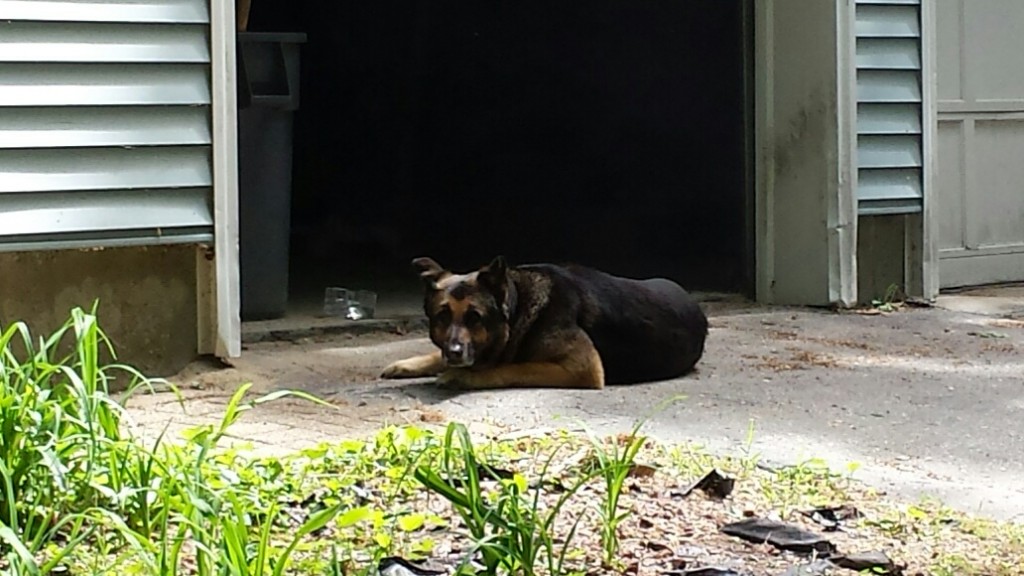 I went to check the progress of renovation work being done to one of my properties today. I stop by at least once a week and, each time see a different set of contractors working on the house, this being a full roof to basement re-do. Today the dry wall/plaster crew was there. I saw the dog, (in the photo above), as I parked my car. Smiling, I got out of my car and waited for him to be a dog and bark and come over to me and make sure I belonged and/or had any right to come on his property.
I talked to him, (no matter what the breed, how big and ferocious they might be), I always start my conversations with, "Puppy dog! what a good-looking doggie you are!"  [funny, isn't it? a person's sense of self-consciousness, when it comes to behavior that might be regarded as silly or inappropriate, is totally tied to how much that person enjoys whatever the reason is…for…acting silly. It didn't  matter if anyone was watching this real estate broker get out of his car and ignoring everything, have an out loud conversation with the approaching dog].
In any event, we met and he was a friendly dog. I started walking towards the house, ("come on! lets go see the house!"). He was a German Shepherd, probably 6 or 7 years of age, and I immediately noticed the slant of his hindquarters. (It's my opinion that the most monstrous form of animal abuse I can think of is the breeding of dogs to match some person or breeder organization or show dog judges. The words of this conformance standards can be seen in some German Shepherds. My guard dog today being one them.)
My new friend and I walked towards the front door. As we stepped up onto the raised brick walk leading to the front door, he fell. He half-fell. His rear legs simply did not negotiate the step-up on to the walk.
I turned and looked at him. He looked at me with an expression that… represents what makes dogs so amazing. It was a look that said, 'hey, sorry. legs gave out. Go on without me, I'll be alright…just have to get back up.'
I felt sorrow for him. I didn't 'feel sorry for him', I felt sorrow.
What an awful feeling. My stomach fell, trying to pull my eyes into my throat.
I waited. He got up, without undue distress, clearly he was used to this happening. Once he was back on all fours, I actually said, in all sincerity and seriousness, "hey you should go back to your post, I'll just go in myself'…. (yes, I said this out loud ), and he did just that.
What does this have to do with self-improvement and the Wakefield Doctrine?
You will read in these pages the statement, '…the Wakefield Doctrine is a tool to help you better understand the people in your life'. This is a true statement. It is also a tool to better understand yourself. Which, when you think about it, can be a much more difficult task than:
understanding why your husband insists on using a sharpie to make outlines of the tools that he hangs in the shed or
your daughter who totally thinks that her expression of her individuality (purple hair, nose rings and combat boots) should not go against her in the upcoming job interview.
Using the Wakefield Doctrine allows me a slightly different perspective on myself. Which, given that I am a clark, is at once more difficult and more valuable. We all, (clarks, scotts and rogers), have blind spots.* And, if you're after improving on the way you relate yourself to the world around you, then you had better find a way to see into that area. There might be treasures there.
The biggest blind spot for those of us who grew up and live in the personal reality of the Outsider, is emotion. Not that we don't have or feel emotion. It's just that we're not always on the best of terms. (New Readers? If you read and learn the worldviews as well as some, people like zoe and Kristi and Val…. then, had you heard a person utter that last sentence, ("It's just that we're not always on the best of terms'), you would be totally thinking, 'probable clark'.  lol
But I felt the raw emotion today. Just for a second. And I knew that it, (the emotion), was, as Castaneda might have said, 'a thing of power'. It was an indication that there are parts of me that I do not know very well and that, if I am to self-improve myself, I will need to come to know better.
….but, it was so sad.
But hey, no one said it would be easy. In fact, most people will say, 'if you want to change for the better, there is a price to pay and it's always going to be almost more than you're willing to pay.'
* I will not go into how insufficient the term 'blindspot' is in this context. It is. Maybe the next Post.