Welcome to the Wakefield Doctrine (the theory of clarks, scotts and rogers)
1) Today started very early. I am, apparently,  a 'morning person'. Given a choice of getting up extra early or staying up extra late, I'll pick the former every time. So, today,while not particularly unusual in (my) getting-up-time, saw me out on the road extra early… as the photos indicate, about sunrise.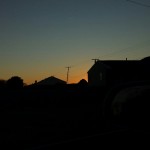 …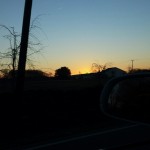 …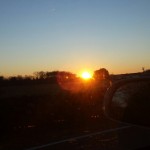 …I was driving –>  on my way in to my office. Good to have technology to be able to grab the photos as I drove.
2) (I'm really determined to write a normal, orderly TToT Post this week. Not that anyone is suggesting or otherwise attempting to compel me to do so, it's just that for me it's difficult and therefore accomplishing it would be a good thing. I am grateful to Christine and Dyanne and the other co-hostinae who are skilled grat list writers, for their encouragement and, in their own contributions here each week, demonstrate of 'how to write a grat list… here and now style'!*
3) Phyllis had a birthday recently and, as a present, I thought….'hey! real people send flowers to loved ones at their place of work as a surprise'. The pleasure of such gestures is, by all appearances, enhanced by the public-ness of the gift receiving process. I suspect that this is a X Chrome thing, as it seems to be all about… the 'awwws'  Of course, I am a clark, which would have become totally obvious had you the opportunity to observe, as I went online to the FDA online florist site (FDA online florist site motto: ' You're at home in your bathroom with a cup of coffee… you can afford to be extra romantic!'). But, flowers are not really something I understand (other than their 'aww' producing qualities), so I thought, 'a plant for Phyllis's office would be nice… bonsai plants are pretty cool and slow-motion zen an shit… get her something Mr Miyagi would approve of!' and so I did and I am grateful for the opportunity to do so.
4) I am grateful for the new plant I have on my desk at home: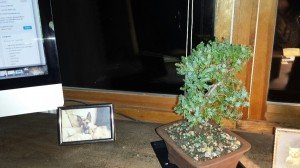 … if it weren't for the fact that only girls and rogers name things like cars, and plants and such, I'd call it 'george' (or 'ジョージ')… but being neither, I guess I'll just take a photo and maybe come back to it from time to time on these weekend posts. It's not that Phyllis did not enjoy my gift, it's just that she's not a plant person… so we'll see.
5) (I'm actually still within the last 7 day period with my post here!) Allow me to go a little generic, and say I'm very grateful for the non-snow infested winter season that we've been experiencing here in southern New England. Granted it's been cold, but, (the lack of snow), is worth at least 10 degrees of outdoor temperature.  and…and! it's like still light at 5:30!!
6) I spend a significant amount of time in my car everyday. The lack of snow has made this much more enjoyable. I'm more inclined to try and take photos as I drive: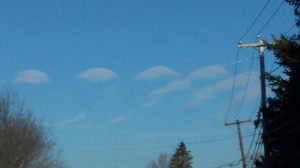 is it just me, or does this cloud formation seem a little odd. (That special kind of 'everyday unusual'… like walking into kitchen and seeing a clean plate on the top of the stove, obviously the result of a major distraction…. nevertheless it can be a bit …un-nerving, teetering between funny and creepy… these clouds? They could go either way.)
7) As always, I'll cite the Wakefield Doctrine as one of the most significant aspects of my life. No, seriously… were it not for this fun and unique and helpful theory of personality, I would not be here, writing this Post! 
8) You know Christine did something at 'the coop' this week that might serve a grat item prompt, if I may borrow (and mutate her idea)… i.e. to tell a story from the early days of my life in the 'sphere. It ties into Item # 7, the role of the Wakefield Doctrine in my (online) life.   So anyway… a couple of years ago (stop me if you've already heard me tell this story!) I was doing a FTSF** and I came across this small blog, 'Considerings'. I liked it immediately… very intense, personal and rather well written  and clearly there was a clark on the other side of the computer screen. So I started 'hanging around', reading each week on Fridays and then other days and, finally, I started commenting. (This act of commenting is a testament  to the Doctrine, in that many of the Posts were dealing with difficult situations, (in the life of the author) and, although I didn't know the author (our Ms. Rogers, of course), I did know that she was a clark and therefore I felt comfortable enough to respond as I would to a person I already knew. Because, in a sense I did.
Anyway….!!   so, I was writing comments at Considerings for, probably a month or two when, totally out of the blue, I get a Comment at the Doctrine from a woman living in the Midwest. It was an interesting Comment,  'I found your post interesting…. I've seen you at my friend Lizzi's blog and I wanted to introduce myself'.  I sat back in my chair and smiled, as I immediately realized that a) the comment writer was a scott and 2) she was checking me out. her purpose was simply to make sure I wasn't some kind of un-desirable, stalker kind of person, and so, I smiled. I smiled because of the value of the Wakefield Doctrine in understanding people (including total strangers), and I smiled because that is what a scott does when they have a clarklike friend… Christine did not need to ask Lizzi if she needed help, Christine did what a scottian friend would do.  Naturally we got along splendidly right from the start.
I am grateful for the Wakefield Doctrine.
9) Hey! Always grateful for the Book of Secret Rules (aka the Secret Book of Rules)… it represents the kind of attitude that makes this bloghop the excellent thing that it is… 'rules without force' the manifestation of the sense participating in this community, according to 'where we are, on a given weekend'  Very cool
10) Lets close with the photo I took as I headed back to the office to finish my day today: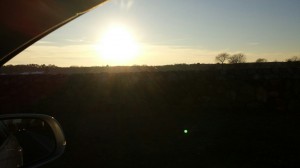 …I was driving <—- and the sun was beginning to start to set.
 Your hosts
Join the Ten Things of Thankful Facebook Group
* both Christine and Dyanne are scotts and that's where they live, in the present, immediate and real world… ( as they might say, 'hey! grab for the brass ring… you only have so much time here!!')
** 'Finish The Sentence Friday' my first bloghop… and still a favorite, though I have not participated in a while, Kristi was one of the hostettes…