Welcome to the Wakefield Doctrine (the theory of clarks, scotts and rogers)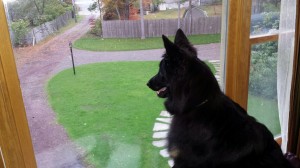 1)  grateful for being able to (continue) my morning walks to the mail box. We always walk up to the mailbox in the morning before we Phyllis and I leave for work and Una takes up her daytime position on the couch in the lower level family room.
2) I am grateful for the fun of having a dog in the family. Not an un-common characteristic in dogs, Una has a different 'returning home' greeting for each of us.  On most weekdays, I'm able to get home to give Una her lunch. The fun part, (for me, and maybe her), is that I start talking before I open the door to the lower level, usually something topical like,  "…oh man! look at the time!! a certain dog must be famished… (step into the Family Room) oh! I didn't see you on the couch!!"  (I laugh and Una, I assume, gets a kick out of it).
3) that morning walk in Grat Item #1? just in case anyone is thinking, 'Well! that's a relief! A walk with the family to the mailbox in the morning, how normal can that clark guy get!'  I am grateful that I have been able do this exactly as I did in the summer, no shoes or coat. (This is a clark thing. It should have little or no appeal to a scott because scotts, by worldview definition, tend to live pretty much all in the here and now . rogers… they would tend to see my little morning exercise as either a) a funny quirk or 2) an annoying affectation.)
Having said that, as a clark, I find that when I'm walking to the mailbox in the rain without a coat or in December without shoes, it helps me realize how important it is to appreciate what is. That I am not in a hospital bed, or in a wheel chair or in the house because I am not able to leave…. I find that I 'enjoy' the harsh feelings of the 30 degree morning in part when I can know that it is a very real possibility that someday I will be in a place where I look back on (these days) and wish to anything that I might again have the opportunity to do something as silly as walk to the mailbox without shoes or a coat in December.
4) Phyllis obviously,  because she doesn't refuse to go out to the mailbox because of that guy that's insisting on making a simple family activity into some kind of 'inside-your-head-metaphysical-adventure'
5) …grateful to the blogosphere for the opportunity to get to know Cynthia (tbfka Cyndi)…She writes the blog Pictimilitude which, among a whole bunch of things, was the sponsor for the short-lived 'Wakefield Doctrine 30 Minute Hour' on blogtalk radio!  In any event, she is a pretty amazing person and she is graduating from Graduate School today!     "Así se hace !!! Cyndacito!!
6) Vidchat… despite my best effort to the contrary, a Friday Night vidchat is fun and enlightening… last night with zoe and Lizzi   (hey!! Joy   sent FB invite  but the vidchat app was acting up  though, I heard that Kristi was also planning on stopping by, but I got elderly around 9:00 pm and had to go fall down in the room with softened floors. perhaps next Friday!)
7)  I've been listening to this one song for the better part of the week, so I might as well invoke SBoR 87.3.1 [sec. 3]  and post it as Grat Item #8.  (an example of a cover being superior to the original)
8)  
9)  The Book of Secret Rules (aka the Secret Book of Rules)…. (motto: 'well, don't feel embarrassed, spend the time and take the chance finding a Rule that allows you to do what you want/need to/feel-you-must and go ahead and cite it!' )  The SBoR's has been referred to as the '...rather nice tool that those odd folks who participate in the Ten Things of Thankful bloghop apparently have, it clearly makes a fairly common bloghop theme, i.e. gratitude lists, such a delightful exercise.'
10) 1.3   y'all
 Your hosts
Join the Ten Things of Thankful Facebook Group
* what, no Footnotes?