Welcome to the Wakefield Doctrine (the theory of clarks, scotts and rogers)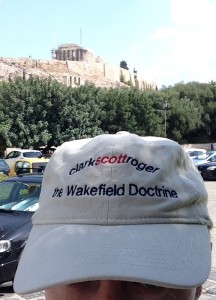 Comments on Posts. These are, without doubt, nearly as good as 'getting the book deal', (the book deal that all bloggers dream of, even if they are not willing to admit it). The other day, I used an old saying, 'when the pupil is ready, the teacher will appear'. For the purposes of today's Post, lets adjust the aphorism to, 'when the blog is ready, the Comments will appear'.
Blog Post Comments are the difference between writing and being read. When we start out writing, we are rewarded for our efforts with wishes of luck expressions of encouragement, from friends and loved ones. That these would be the last time they visit our blogs did not diminish the enjoyment of seeing 'Comment Awaiting Moderation' in our email. Then came the Comments that were really exciting! Comments from  locations (and email addresses) that we did not recognize! …finally we're going viral! The Comments written by people from countries that we last heard about in 10th grade geography, while puzzling, were still Comments! They told us of their gratitude and pleasure to read our latest Post!  "I read your article with gladness, it is just what I look for in my term papers, Keep up the great work!" But like sex, after the amazement wore off, we sought, in these random validations of our most inner thoughts and feelings, a connection. And, like the frantic and exciting frenzy of youth, eventually we realized that it can't be all parties and one-night stands.
Here at the Doctrine we are currently in a more serious, yet still exciting, and at times, scary stage of developing our readership. Sort of like when you get a job that requires moving as part of the advancement path. Settle in a new neighborhood, meet people, (as many as possible, at first), find people you seem to click with and write Posts. Then, when you think you're settled in and know all about your neighbors, the call comes and you have to meet all new people and co-workers.
Comments are a lot like that. Comments tell us that we're reaching our Readership enough to cause people to make the effort, and, (what took us so long in the beginning to understand), take the chance that is as much a part of writing a Comment as it is writing a Post.  They tell us about how much they enjoyed or appreciated what we wrote. Comments sometimes tell us that what we think we wrote is not what is being read. Comments tell us to look at our message and be sure that we are sure we really wanted to say what we believed we were saying. Comments make us improve or they make us fall out of love with this blog life.
I'm still excited by every Comment I find at the bottom of a Post.  And, being in the 'niche post' part of the 'sphere, Comments are invaluable, they keep me trying harder with each Post to get my message across, in simple and direct terms.
(Seeing how this is the Wakefield Doctrine), let me address today's topic in Doctrine terms:
clarks always 'get' the Post, which aspect of the Post they choose to make the theme/thesis of their Comment is….well lets say, there will be a connection, although I often have to think about what they say, re-read the Post (yeah, the one I wrote) and read the Comment again….   and it's all worthwhile
scotts are, in Comments, as they are in person, in the 'real' world: direct and funny, aggravating and provocative and, at times make a blog writer glad that this is through the internet…. the levels of stimulation (good/bad/really good) is always amazing
rogers… lol  (I need to say this about rogers…. if the Wakefield Doctrine hadn't already defined the rogerian worldview, reading and analyzing the majority of Comments on blogs (not surprisingly the same ratio as there is among people in general) would allow us to re-invent the rogerian worldview.
(That's friend of the Doctrine, Alex, on holiday in Greece. I do believe that's the Acropolis.)