Welcome to the Wakefield Doctrine (the theory of clarks, scotts and rogers)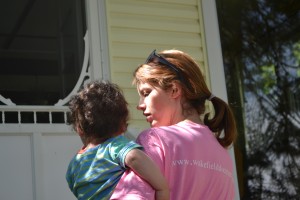 This week's Guest Post Thursday('s)  Guest Post Writer is Katia Bishofs.
I met Katia a couple of years ago on (the) Finish the Sentence Friday bloghop. My first thought reading Katia's blog, IAMTHEMILK, was, to employ an archaic expression, 'this person really has it together'.  We  hit it off and IAMTHEMILK became one of my first stops on the 'Friday rounds'. This is the truly cool thing about the 'sphere, that I get to meet people from all walks of life, from all parts of the planet… and Canada!  Katia has a pretty damn remarkable presence among blogs, being printed/published and re-printed in more sites than I read!  So, when the time came to ask another clark to write a Thursday Guest Post, I realized asking her would be a perfect opportunity to demonstrate, in a small and disguised way, the efficacy of the Wakefield Doctrine as a tool of self-development!
(Yes, that is a Wakefield Doctrine docTee in the photo above.)
Without further adieu…. hey! Katia has a second site (no! not sight…site! well, maybe both, as it is a well established fact that, when it comes to intuition and near-creepy sensitivity to the thoughts and feelings of others, clarks are the masters!), it's a website totally full of helpful and valuable information and advice for mothers (and others) engaged (or contemplating engaging) in a job search: the Recruiter Mommy.
…Katia?
Top Five Best Things About Being an Outsider

I've been involved with the blogosphere since 2012. Due to kids (mine) and life circumstances (also mine) my relationship with it is no longer monogamous, but whenever I do visit the blogosphere, I follow Clark's doctrine with great interest.  With his help via comments on my blog, I was able to confirm my suspicions that out of the three personality types the doctrine identifies, I'm a fellow Clark. When I read about Clarks, one aspect that I find particularly fascinating about them is their overly developed sense of outsiderdom.

***

I once had to come up with one of those awkward third person bios for a website I was featured on. This one read:  Katia was born in a family of immigrants. She always felt like she didn't belong, so one day she moved and switched continents so she could 'not belong' for a good reason".

Up until I immigrated my outsiderdom had been an emotional state rather than a biographical or social fact confirmed by my surroundings. That well kept secret, however, would occasionally overflow and spill over to the outside at times of emotional tide and vulnerability, making itself potentially noticeable.

After moving from Israel to Canada my sense of outsiderdom finally received a reason. Seven years into my immigration, I rarely feel like an outsider anymore. I recently attended a blogging conference, where a hilarious post was shared by Meredith Bland at Pile of Babies. That particular post inspired this one, as it made me examine what would be perceived as a disadvantageous situation in a different light. Sure, immigration was one of the toughest things I've ever had to do, but I can't say that my new status of immigrant, a.k.a. outsider by choice, didn't come with its set of perks. I give you immigration's top five advantages:

Weird behaviours are totally acceptable – scratch that. They are actually expected of you. Want to drink creamer straight from the bottle thinking that you're treating yourself to your first ever bottled iced coffee? Want to do all of that publicly? Go for it. It can all be chucked up to cultural differences.  True story.
Geographical idiocy is acceptable as well –let it be known that my inner compass is not just off, it's set to "Trust your gut" which never fails to lead me in the wrong direction. Guess what? Move countries and with your new permanent residence you'll also get your permanent "Get out of judgment jail" card.
Your "weird behaviour immunity" extends to your kids and covers them as well– when your toddler is outside screaming "mama bum!" No biggie. Cultural differences and stuff, remember?
No one's that surprised if you start a sentence but don't finish it –                 (see?)
Political opinions are a Nice To Have – Call me apolitical. I'm from the Middle East and I overdosed on news in the first thirty years of my life. Let's see you drag me into a political conversation after that!

***

Have you ever felt like an outsider?

Katia Bishops writes IAMTHEMILK and Recruiter Mommy and can be found on 'the Facebook'