Welcome to the Wakefield Doctrine (the theory of clarks, scotts and rogers)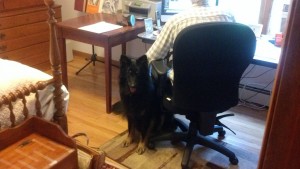 Gratiudious items for this week:
got my camera (Sony Bloggie) to work again… come on telephone-in-car Interviews!
got a chance/took a chance and explained /introduced the Wakefield Doctrine to my dental hygenistist  result?: smile from her and shiny teeth (for me)
glenn for vid interview
got started on this list Friday morning… not  Saturday morning
took a video of (a portion) of our Friday walk, I played it back and found myself laughing (at the fun we have)
the photo above is of Una… dogs have this innate ability to develop certain habits and behaviors that are rather cool, in this example, she decided fairly early in her life to sit next to me at my  (quote) desk (unquote) and, being small enough, use my legs as the back-half of her den.*
the Wakefield Doctrine… yesterday at the office: an agent from another company arrived to drop off some docs. he is a total roger** so Denise (not Girlie-on-the-Edge Denise, a different Denise***) and I are standing, (with another agent), at the copy machine (i.e. the modern equivalent of the  Dagwood Bumpstead water cooler), anyway, we're standing there talking and Denise says to Ben (the roger), 'hey what about that showing you were going to confirm' and he takes out his phone and holds it up to show the email confirmation (from his Seller) for the showing in question. A simple 'yes' would have served. He proceeds to hold up the phone to show a photo of an un-related property,  so he could say, "You know this house? I just sold it" (…no response from us) "…full Price!" (still no response)…"five Offers!" I looked at Denise and smiled as she started to play with the roger, (the way that scotts like to do)  "oh really? that's amazing!! your own Buyer?" and, of course, he brightened right up… (I walked back to my desk laughing… my work was done).
this bloghop with it's astonishing capacity to allow ….variations on the simple, used-by-countless-skilled-and-sucessful bloggers format of a Gratitude List bloghop. I mean, how simple need it be? Write about the 10 things you most identify as the events or people, activity or relationship that engenders a feeling of Gratitude… that has occurred in the previous 7 days. Pretty straight forward, right?
lol…. and then there's this blog Post (though I will say, it's not like I'm alone anymore with the outré grat list…. our friend zoe is given to taking the path less-written and our Founderess Lizzi! I mean, have you seen some of the things she's done?  secret Password protected Posts no less! ( v cool… and yes, I did try 'clarkscottroger' and 'the Wakefield Doctrine' as possible passwords…. no ego here! lol)
…so if you are out there and are thinking,  "damn! that bloghop sure does have some talented and hot writers and writerettes… I don't know if I can be as clear and straight forward as some of them like this Kristi or that Dyanne or … or Chicken Coop wall woman… ." take heart… join us this weekend.
Hypo-gratitudinous items for this week:
thumbnail photo (…on the Wakefield Doctrine landing page….here, notice the color of the leaves on the apple tree?  yeah, I know…"what color?" it's only August and the leaves are beginning to turn… what the hell!?!)
Item 1 on the 'Grat List' above came a day too late, as I had to use my phone of the video of glenn's Post for GPTGP…
Video that made me laugh…twice, both times I've watched it!
http://www.youtube.com/watch?v=rBGpq5KdWDA
 Your hosts
Join the Ten Things of Thankful Facebook Group


* dogs have an innate drive/instinct to find a safe place in their environment, a cave or den (literally or figuratively) in our case, semi-under my banquet table/desk
** Cyndi had an observation (forming the basis of yesterday's Post) about whether or not it is possible to not have a significant secondary or tertiary aspects (it is and Ben, in our story above, is a person with pretty much just his predominant rogerian worldview… the result is: a very successful real estate agent. No, really! in this business the most successful man-like agents are rogers and the most successful female agents are scotts  and the best agents are clarks1
*** she is a scott with a significant secondary clarklike aspect
1) if by 'best' we mean,  'putting the clients interests before the agent's own interests'