Welcome to the Wakefield Doctrine (the theory of clarks, scotts and rogers)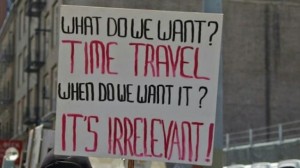 We have some other friends, Stephanie and Janine and Kate and, of course, Kristi. They are, the Ladies of the Write, aka the Women (who) Finish the Sentence Friday. This being, of course, the first bloghop that we participated in and still a favorite.  Each week a sentence fragment, every week some amazing 'takes' on a provocative idea. This week?  Well, I hope my skills are up to my imagination.
This week, the sentence to be finished is:
"If I could go back in time… "
"… but, I did!"
Speaking of Friends…and Challenges and …the alphabet… (ok, no one was speaking of the alphabet). Lets check in with our A to Zeewriters!

Jen-ay   Friday…. my god it's Friday already! here, the letter is  J

zoe   our Mistress of Informinationing  what can we tell you,  'a rabbi, an Irishman and a dog walk into a bar, the blonde says….'

Lizzi   yeah,  her    'here she comes, walkin down the street, gets the funniest looks from, everyone she meets'**
the Wakefield Doctrine  presents:
the Fabulous Bloggers Friday Night vidchat with your hosts
Lizzi and Michelle!
Vidchat update:  Hey! Hey!   we've found a more convenient and easier way to do the inviting for the Friday Night Vidchat.  There'll be a url in a number of different places tonight (e.g. on the FB and here and on Lizzi's blog 'Considerings')… click the link and you'll be at our door.  How easy is that? We'll also be doing the traditional form of invitationing (our Ms Rogers so gets into the fun of finding unsuspecting bloggers and getting them to stop by..)
Speaking of stopping by… now that everyone knows about google+ hangouts  there are a lot of different events and hangouts to go to… which is totally good. Never a dull moment in the 21st Century, eh?  Just want to mention, there are a couple of different formats for vidchats… one is simply a live connection, the other is live and recorded.
Lizzi and Michelle's vidchats are not and have never been recorded.*
It's just what we did when we started doing these last Fall…a live hangout, talk to friends, meet people, stop by for a minute and come back later… you know, like that dorm room on a Thursday or Friday night, where everyone passes through on the way to the weekend. Just wanted you to know.
*there is  another type of hangout that allows the person running to record it and save it to their youtube account…for re-use later. We never record. If you're not sure when you get to whatever hangout you are at, your best bet is to simply ask your host,  "hey  roger!  are you recording this for some kind of mean joke later or what?"  (being rogers, if the answer is 'yes' they'll still deny it but get all offended that you're accusing them unfairly of something  lol)
** theme song to very old show