Welcome to the Wakefield Doctrine (the theory of clarks, the fun of scotts and the dogma of rogers)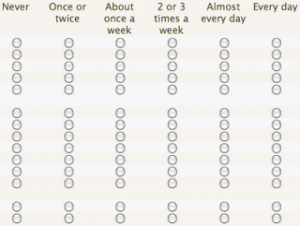 Hell, anyone can pose Questions and provide Answers, the blogosphere is full of Posts that will tell us: what women want, what men want, how to tell if you have a chance, how to get that job, how to surprise your wife, what to say when your husband is disappointed and three ways to put the fire back into: your blog/sex life/dreams/housework, you know? The Wakefield Doctrine prides itself on trusting the Reader more, after all, we're talking about life, right? And it's your life, right? So you already have the answers!  It's just a matter of figuring out two things:
how to get at the answers
how believe that you have the right to know what the right answer actually is
how to overcome a lifetime of accepting the wrong Answer (for yourself)
ya know?
(We better get some basic Principles established before we go any further, n'est-ce pas? )
the Wakefield Doctrine maintains that we all live our lives in one of three characteristic personal realities (aka worldviews), which are: the reality 0f the Outsider(clark), the life of the Predator(scott) and the life of the Herd Member(roger).  Our predominant worldview describes and defines our strategy for dealing with life, it is our 'personality type'. While everyone has a predominant worldview, we always retain the potential of the 'other two' worldviews. These are called secondary and tertiary aspects. This is where the Wakefield Doctrine directs us when we ask, "what the hell can your damn Wakefield Doctrine do to help me change and be a better person?!? Tell me that!"
In the coming weeks we will be laying out the process by which the Wakefield Doctrine can be employed as a tool for changing the things we want to change about our own selfs.
Step 1: Determine your predominant worldview
Step 2: Determine your secondary aspect
(…enough for now, we'll return to this topic in the coming days and weeks. Try to take the first steps, take notes and  write us your thoughts and impressions and such)
You know how I started this Post with how anyone can pretend to be answering Readers Questions and how everyone loves to believe that there are others who are thinking the same as they are and when they see these Questions in a blog, they're all like, 'oh you are so insightful, everyone really loves what you say can I join in with the crowd?
…well, this being the Wakefield Doctrine, we kinda like to do things a bit differently. The Doctrine maintains that you already know the Answer, it's just a matter of drawing it out and putting it in a new Context. So, instead of, 'Questions that Readers Ask', we'll just go ahead with,  'Answers to Questions that (some) Readers are Thinking'
"yep, you're absolutely correct!"

"No, it's like that, but you're letting your desire for a particular answer limit your picking the correct one."

"…sure, if you insist, no…no one here is going to force you to do anything."

"who the fuck cares?"

"why not?"

"what?"
If you want to let us know when we have answered (any) of your Questions, be sure to Comment!
HEY!  before you go…if you haven't taken the  'Predominant Worldview Assessment'  better go ahead and do that now.  and if you have, we are looking for additional scenaria to add to the test, so if you have some life situations  that you think might be useful let me know. I'll follow up and explain how the process works.