Welcome to the Wakefield Doctrine (the theory of clarks, scotts and rogers)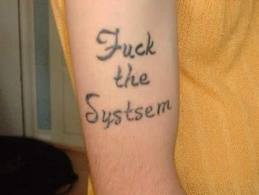 hey!  tow things:
the bloghop is growing which is both a good thing and a factor to be recognized
the Wakefield Doctrine, never a non-list item is progressing and developing
I am going to make a conscious effort to misspell words…not as easy as you might thing…given the spellnanny…future generations of bloggers will have only wrong-word-use to contend with, proof-readationly speaking
Anyway. Lets get to today's List of Grats… and, for the record, I am glad of, grateful to, thankful on, appreciative with and all other indications that I am 'feeling' the proper emotional response for the following:
1) eyes!  aiyee  that 'contest'  that Amy has going on over at 'Amycake and the Dude'…   and all those people what say, 'oh, you write a blog?  how interesting… you must not get bored very easily'  ha! (I retort) go check out the totally alluring photos at that blog and tell me how boring this thing is!
2) this just in!!  I heard my phone make a funny notification noise… and what the hell?? Lizzi and Michelle were inviting me the Sunday Morning Video Brunch!! (I know, I know…it's like 8:15 local  what are they doing on the air so early?  turns out, Lizzi being in BST and Michelle being in TST* they were just chatting and sending out invites and all, which is one of the main fun things to do on vid chats)
3) we did talk a little but I needed to stop because I have this Post to complete and an appointment that I have to leave the house within 45 minutes, but we did discuss: Richard Branson, timezones, words on tee shirts and the proper way to arrange the groceries before you put them in the shopping cart ( 'trolly' as Lizzi called them… those British people, aren't' they so cute with their misuse of the 'merican Language?)
4) I did mention (to Lizzi and Michelle) that I was talking to Denise last night on the Saturday Night Drive Call-in that she (Denise) added to the language of the Doctrine by using the would 'represent' during the discussion about understanding rogers,  something to the effect that it when we try to understand, say a roger whines about something, we should remind ourselves (the clarks) that what we think of as 'whining'  represents something that we, as clarks, do not fully appreciate'  cool, huh?
5) the Book of Secret Rules (aka Secret Book of Rules) is growing in use and prominance (ha ha … my Y Chrome mind just said something guyfunny)… in any event, someone in a comment mentioned 'the Book' and I totally agree, it is a most wonderful thing to have in a blog hop (seeing how this 'hop is like many other hops except it is different….) I suspect someone, someday will write the definitive Post about the BoSR   I will say that I am grateful for it, not just because it lets me play with the rules of the TToT, but it expects (and requires) that anyone who does invoke a Secret Rule presents their reason and rationale (for use) in a way that is irrefutable. (I suspect that as young lifeforms, many of us have heard the admonition, "clark, the amount of effort you put into cutting a corner is so much more than if you simply wrote your Ten Things! damn! young man!")
6) I do have to make this quick as I have to get to work. While I have been taking Sundays off in recent months, the nature of what I do for a living is demanding more time from me and so I will have to look to a better organization of my free time, so that I have time for my blog as well as my work
7) though not a Secret Rule, I will try something for  items 8-10. (In my defense, I will blame 'our Mz Lizzi' for always challenging us to look for that… blog road less travelled…. wish me luck
8)   this
9)        space reserved
10)                   for my umpteenth effort to do something  half-well, but really cool
(the following is not quite what I had hoped to present as numbers 8-10 but are ya gonna do?)
*BST: Beatles Standard Time and TST: Tomorrow Standard Time
 Your hosts