Welcome to the Wakefield Doctrine (the theory of clarks, scotts and rogers)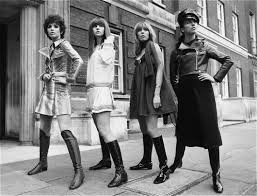 I was almost going to not participate in Finish The Sentence Friday today.* Nothing bad (for a reason), too much work, the common cold of distractions, the cumulative effects of which (often)  results in a state of creatile dysfunction. But, as has happened since I started writing a blog, I made a Comment at Lizzi's Facebook Page that was based on a song, which lead me to listening to the full album on 'the youtube' (my physical album long since absorbed by the insulation and rafters of my attic).
I used to love to….
listen to  Sgt. Pepper's Lonely Hearts Club in its entirety (at one time, sequentially at one time).
Think about how much has changed in our lives. Even something as small as the way we enjoy music. To sit and listen to an entire album…without 'putting it on pause'… without 'having to click the next link to the next song', without 'having to answer an email' or even 'twittering to everyone how much I enjoy 'Being for the Benefit of Mr. Kite'.'  Just listening.
This is not a Post about how wonderful the old days were. This is not a Post about how some things are not as good as they were when we were young(er). This Post is about one of the things I used to love to do…   and I still love to do. (I always end up getting something from writing these Posts). Right now, as I get to the second half of the 'second side' of the album, I'm feeling that like while nothing stays the same as we grow older, nothing can take away the pleasures of the past. And, unless I destroy it for myself, by trying to compare today to yesterday, what I used to love  to  can be as enjoyable as it used to be.
"I've got nothing to say but it's ok.  Good Morning, Good Morning"
* Finish The Sentence Friday  from Friends of the Doctrine,  Janine and Kate and Stephanie and Dawn.