Welcome to the Wakefield Doctrine (the theory of clarks, scotts and rogers)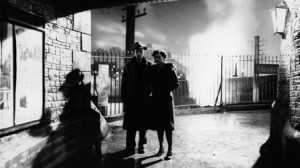 me: so how was your get together last night*

Phyllis: not bad, Scott and Kathleen and Kim and Lisa were there

me: how is everyone doing?

Phyllis: good. Pat was also there a little later in the evening.

me: Pat?

Phyllis: yeah, you know him  tall, sort of round face, short hair

me: roger?

Phyllis: yeah, him. In any event, he was telling Scott how his father died last month.

me: really?

Phyllis: interesting…the guy had been healthy his entire life but one night started feeling bad, took some aspirin…but it wasn't getting better. finally told his wife to call 911 because, he said, "I'm dying"  and proceeded to do so

me: wow… Scott must have hated the story…

Phyllis: yeah, as a scott he would have been mad that he wasn't informed.

me: I like Pat's father's style

Phyllis: yeah, we've both had practice… most people would not be able to die without un-necessarily upsetting the people around them

me: (laughs) well, we would have, unfortunately having had the chance to practice with Ola and Bella**  oh well
The Wakefield Doctrine not only provides a helpful aid to remembering people, but it is also of use in conveying the reactions and responses in situations. As illustrated in the story above, even though I was not present and witness to Pat telling Bob about his father, knowing that Bob is a scott allowed me to know his likely response (to the news that Pat's father died).
You know how we are always saying, "...with the Wakefield Doctrine, you will know more about the person than they know about themselves." ? well, this is a good example. Phyllis, while listening to the conversation, knew that Bob would not be listening after he absorbed the fact that, even though Pat was a member of the same social group, he (Scott) was not informed of the very significant fact of a death of a family member. In other words, as a scott, Scott was stuck struggling with the fact that as a presumed pack leader, he knows that he should have known.
How useful is the Doctrine? As a result, I was able to get much more of a sense of how Phyllis' evening went, without having to leave the house! lol
So…study your Doctrine. It has more to offer than you (or me!) even realize.
If I may, I have had the following song stuck in my head all morning.. sometimes it helps to put it in a Post. Old, old song.
* actual conversation this morning.
** Ola and Bella were our dogs. Anyone who has the terrible/wonderful privilege to be there for a pet when they die, knows that, dogs being so incredibly sensitive to emotion, it is necessary to feel the calm and serenity that they deserve to feel around them, no matter how awful you know you could feel at that moment.