Welcome to the Wakefield Doctrine (the theory, the observation... the perspective, on the way that people relate to you and to me, through the filter of their personal realities   (as) clarks, scotts and rogers)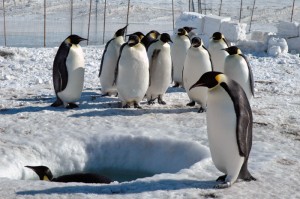 The Wakefield Doctrine proposes that, if you have the imagination, (and the inclination), you can understand the people in your life more completely by viewing their actions and behavior as occurring within a certain context.  The Doctrine maintains that there are three  contexts, or worldviews. They are:
that of the Outsider, ( 'I am here and the world is out there' ) …only a clark can say this and believe it
the Predator and  ('I scream, therefore I am' ) …only a scott will wonder what the fuss is about
the Herd Member. ('as it was in the beginning, so shall it be') only a roger would not feel the limitations inherent in this
…with knowledge of the characteristic behavior of  each, you can infer which of the three worldviews is operative (for the other person). You will then be afforded an insight into, not only to a host of (other) personality traits and behaviors, but the very rationale upon which the person bases their decisions and strategies.
"…and the hiring Committee said that they had never encountered a candidate for the position who was better qualified. I knew that my academic record showed well, but they really seemed to be impressed and so I got the position, which was more than 2 years ago. They say that if the CEO acquires the new Company, he and his CFO will most likely move their base of operations out to the coast and I will be asked to step in as the acting CFO."

Mel was glad he was invited to this party. When he first arrived, he had doubts that it was such a good decision. The host, who actually arranged for his own birthday party, stood outside the function room (the Samba Room) and seemed an interesting enough person, in a loud, immature sort of way. Preferring to get to any function exactly on time, Mel initially felt a bit dismayed at how lame the people seemed to be.

"…and when I told them that there was no way I would accept..."    Mel stopped mid-sentence, as everyone in the group surrounding him started turning away.  Almost as a group, they were looking towards the double door entrance to the Samba Room. Clearly something was going on, he could see people leaning towards each other, elbow-nudging and whispering, in that 'this-is-private-let-me-tell-you-a-secret' way of talking that he hated to see in other people.
Setting his half-empty plate, (the Hors d'oeuvres were passable, the Brie was laughingly  sub-par), on the condiment table that he was using as a makeshift lectern, (the sugar packets were very useful in illustrating the field of competition that he had to overcome to reach his current position), Mel pushed past the new Intern from the Accounting Department and stepped in front of a young woman from the Research Department ( He made a mental note to talk to her later. She was very attractive, in an odd way and seemed to be very bright, but hardly spoke above a whisper. Mel thought that she might be worth investing some time in,  he couldn't remember her name.)
Mel reached the outer edge of his group in time to see a woman standing just inside the entrance area of the room. She was stunning.
There was an energy coming off her that Mel couldn't recall ever seeing in a person. (A memory of a trip to the Zoo when he was 7 years old flashed through his mind. He was standing in front of the big cats area and feeling let down and very disappointed that there were no lions or tigers fighting in the open area. Holding his mother's hand and standing where he could see the whole area, only the moat and a fence down about 15 feet from separated them from where the lions were supposed to be and he couldn't see anything. Just as he started to complain to his mother, something moved and he realized that there was a lion sitting under a bush the whole time.  Once the lion moved, he could not take his eyes off her. Finally, the lion got up and walked back into the fake cave enclosure, but not before making eye contact with the 7-year-old child. Mel never forgot the way he felt that day when he made eye contact with the lion.)

"…is that Ms. Delgiudice?!"  "…no, way!"  "damn, you know that is her! .."dude, your Department Head is sorta hot,"  "what do you mean sorta, Esé?"  "no, our Department Head clearly is, in fact, smoking hot…"

Dismissing the growing chatter that was springing up, all focused on the newest arrival to the party, Mel turned back to his group. Somehow, the group seemed to break up into smaller units, people pairing off and moving in a 'slow-motion-pinball'  kind of way, towards the front of the room.
Mel spotted the girl from the Research Department, standing in the exact same position she was in before the group began to disintegrate. She was looking around the room, but her eyes were moving at a different rate than her head, and she seemed to be smiling. Not at him, not at anyone apparently, simply smiling.

Mel walks over to where the girl is now standing by herself and says, "Hi! I'm Mel, this is getting to be a pretty good party, no?" Despite being the only person within 15 feet, the girl seems, somehow startled at Mel's greeting. She looks at him, looks down to her left, a very fleeting smile passes across her face and she looks up and, compressing her lips in an odd smile/grimace, says, "Oh yeah!, hi! I'm having fun and you?" There is a moment of silence, both in the room and between Mel and his new companion.

"Ms. Delgiudice is really something, isn't she?" the girl is looking towards the new center of the party, on the other side of the room as people headed, much as do moths.  "I just interviewed with her, trying to see if I could move from Research to her Department, and she was very encouraging and I think that maybe that is really where I belong, if I am going to stay with the Company."

Mel smiled…
(…to be continued)