Welcome to the Wakefield Doctrine (the theory of clarks, scotts and rogers)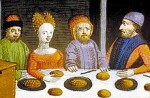 Fun in the dashboard last night! Two new callers, which in and of itself is not unusual. What made it unusual was that the call was from DS#1 (a clark with secondary scottian aspect) and she started out by informing us (Molly and Ms. AKH), that she was sitting by her vehicle in the Park in New Smyrna Beach and had a couple of rogers with her. Interesting conversation.
Our new Callers had some very challenging and interesting questions for us.  'What is the point of all this effort', 'How is it that clarks act one way with rogers and another way with scotts?' and 'If your Doctrine is all that DS says it is, tell me what kind of luxury car would I buy?'
lol that last question is (the kind of question) what keeps us calling in to the Drive! We talked about foreign and domestic brands and ended up with the choices for a roger as:
foreign: BMW, Saab and Volvo
domestic: (interesting juncture in that I called for Buick if it were a younger roger and high-end Ford if an older roger… Bruce admitted to a Lincoln…)
SUVs: Molly went with one of the more steroidal Jeeps such as the Rubicon, I went with Range Rover but then again, I thought the Buyer would be a roger, she said scott.
The conversation dynamic was interesting, too. We had DS#1 (a
clark
) playing the proper host to her guests and Ms. AKH ( a
scott
) who actually provided the focus at times when the converstation threatened to veer off the road, and Molly (a
clark
) providing the strong counter/reinforcement highlights with some of the trickier concepts.
Towards the end of the evening, the other
roger
on the line with DS#1 asked a very directional question about the use of the descriptor  'proper behavior' in the context of how
rogers
viewed themselves.  This lead to the description of the world as being perfect (from the perspective of a
roger
). Molly came to our collective rescue by referencing
the scenario of the rogerian applicant for a job as a waitress
. This particular scenario is interesting in that all
rogers,
when presented with the choices of action, have responded with total uniformity and consistency,  and our guest caller (roger#2) was no exception. The concept of a 'referential authority' being central to the
rogerian
worldview was further validated.
But, you say, did we have fun last night?  Speaking for myself, the answer is an unequivocal 'totally'.
(the 'Dentists' in the Post Title?  that comes from a very very old tale from the life of the Progenitor roger.  You really should ask him, as a hint, it involved roger, in anticipation of going in for some major dental work, expressing a concern about being up to the task of 'dying right'. It really is a fascinating insight into the rogerian worldview ).
*the photo?  lol the dying branch of the road to a Post Title… the image that wikipedia had for the entry entremet