Welcome to the Wakefield Doctrine (the theory of clarks, scotts and rogers)
Part 1 of our Series  '(as-yet-untitled) Series: Part 1 the Wakefield Doctrine, a little backstory for our experiment and the singing of the moth' provided us with a little background on our Test Subject. To be more specific, what we have is an adult clark, with a successful real estate business, about to attend an annual Convention. Our 'live Experiment' is quite simple. Given the nature of the clarklike personality type, we pretty much know how this trip will play out, in terms of what he accomplishes in going on this trip.
As a realtime demonstration of the Wakefield Doctrine we will:
illustrate the differences in the worldview of clarks, scotts and rogers
anticipate the difficulties that a clark perceives in a very common situation (well, kinda common)
devise a strategy for our clark to utilize
provide Readers with insights, not only into the worldview of a clark, but the world of rogers and scotts as well
have some fun while further validating the efficacy of the Wakefield Doctrine as a tool (for) self-improvement
yo  …(with a worldview like that, how can this not be a fun adventure?)
So lets continue to layout 'the playing field', if you will, of our little Experiment.  (btw), we've received zero suggestions in our Contest to name that Series of Posts, so lets just go with: Coming of Age in,  A Voyage to the Country of the Houyhnhnms, Josie and the…screw it!  Lets call this thing:  the 'live Experiment' and let it go at that.
As previously stated, our clarklike subject will be attending a 3 day real estate Conference next week. These types of Convention/Conference are meant to provide an opportunity to attend seminars and hear from experts on the latest developments in the real estate industry, (to) establish connections with other business people and most importantly of all, to develop and maintain a network of people who will become sources for future business income.  In other words, this place will be totally crowded with rogers and scotts!  So how can a clark function effectively in this environment? That is the essence of our 'live Experiment! Stay with us as we will be developing a strategy for our fearless our relentless our totally  clarklike Test Subject.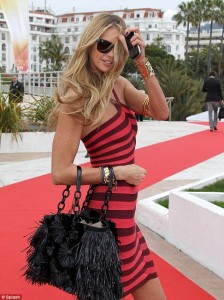 A business convention! More specifically, a convention/conference for professionals in the real estate industry. Three days of rogers and PowerPoint, a gathering of the herd, where rogers from all over the country gather to graze in all the high-end presentation-technology money can provide! Seminars and lectures, meet 'n greets, cocktail parties and Keynote speeches, Vendor Exhibit Halls and hospitality suites… as you walk into the Convention Hall you can hear the deafening lowing of the well-heeled rogers! …scotts?  you want to know if there are scotts at these affairs?   oh man! are there scotts!
Quick! Without thinking about it and not including (a) sexually-aroused pit viper or (a) mother tiger with 3 cubs, 2 of which you have in a sack over your shoulder and the last you are about to grab, when she comes upon you after hunting, …what is the most deadly form of scott?  (…hint: 3-5 inch stiletto heels….fashion co-ordintated iPhone… appears on the convention floor only after 1:00 pm?) Give it up for the scottian female!
OK we know what the Test Maze is going to look like, we have a good idea of where the various prizes are to be found ( if we played more on-line games this would be a funnier section of the Post. You know, making the whole Convention environment sort of a …a (fill in the name of your favorite video game).
Stay tuned for Part 3  ("OK you got me here…now what the hell do I do?")