Welcome to the Wakefield Doctrine (the theory of clarks, scotts and rogers)
Today we present the first of a series of Posts that will look at the process of interviewing for a job, through the prism of the Wakefield Doctrine. In each of these Posts, we will set up a  job interview scenario, each in a different business sector and  look at it from the perspective of the Wakefield Doctrine. The underlying question throughout will be,  "what insight does the Wakefield Doctrine provide that will allow us to improve the chances of success in being hired in each of these situations?"
To start us off,  we will consider the strategies available to a person seeking a position in what is often referred to as 'the corporate world'. Subsequent Posts in this Series, will include  interviewing for positions in the Manufacturing Sector, Service Industries and Small Businesses.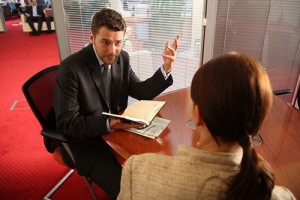 Corporate Environment:
…the Human Resources Offices of a multi-national Investment Banking Corporation,  you are here for a First Interview for a job as (an) Earnings Analyst ( for the M&A Division of Clarke, Scott & Rogers, Investment Banking Ltd ). You have a degree in Business Administration, your GPA was a dead-solid middle of the road and you have spent the 3 years since graduation working at a variety of jobs that included: Taxi Driver (night shift because that would leave you plenty of Business hours to find a job), Busboy ( at a restaurant in the business district where you think you can make some good business contacts) and Deckhand on a Fishing boat (because you always thought that would be fun).
A friend of one of your parents is on the Board of Directors of CS&R Investment Banking and though he has not recommended you personally, did tell your parents to tell you that there was an un-advertised position opening up in the M&A Division.
And so, after submitting your Resume and Application (which included your parent's Board of Directors Member friend), you have been granted an Initial Interview. This Interview is with the Director of Human Resources and, if you impress him, you will be given an Interview with  the actual Manager of the M&A Division.
(…. oh!  do we need to mention that you are a clark?)
(First Interaction)
The Receptionist  is on the phone when you walk into the outer Office… her desk is spot-less… and she is stunning. On her desk, which is directly opposite the door is: a phone, a computer screen and keyboard and a single framed photograph (of her in what is clearly an exotic foreign locale). Behind and to the left is a single door marked: Private
Do you:

Walk directly up to her and begin speaking
Stand rooted to the spot and wait to be invited further into the waiting area
Ignore her and go for the door that seems to lead to the inner offices

The Question: if you are a clark what is likely to be your first reaction, which is the most effective strategy and which of the three personality types is the receptionist? Please submit your answer (along with the reason for your picking the personality type) in the Comments section at the bottom of this Post
(Second Interaction)
…you have been sitting on the expensive couch in the waiting room for 45 minutes ( 30 minutes later than the scheduled interview). Ten minutes after you arrived and the receptionist pointed to the waiting area, a woman carrying an iPad and  wearing an expensive business suit and designer glasses came into the office. She spoke briefly to the Receptionist and then walked over and sat across from you in the waiting area.  All of 5 minutes pass, at which point the Receptionist announced, "Mr. Andrews will see you now."
You both got up.
The receptionist smiled and said, "No, I'm sorry!  I was speaking to Ms. Ellison." At which point,  your former reception-area-companion walked through the doors into the inner offices.
Do you:

Pretend that you were only getting up to stretch and, in the hopes of convincing the Receptionist that this was your reason for getting up, you remain standing until she asks if there is something she can do for you?
Look annoyed and sit back down and turn the pages of your magazine loudly and much too quickly
…get mad and confront the Receptionist

The Question: if you are a clark, which of the above is likely to be your initial reaction and which, (of the three actions above), should be your reaction, in order to increase your chances of being successful in this Interview?
That will be all for today.
'Part II   The Corporate Interview' will be appearing later in the week. All who submit  Comments and/or Suggestions will be eligible for a free Wakefield Doctrine Tee Shirt!!