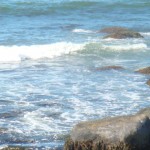 …"Does this rock make me look fat?"
(Sorry, that phrase lodged itself in my mind since I took the photo…yeah, non-borrowed content!) But it gots nothing to build a Post on, does it?
…Found it*!  Everyone knows that it is all about the visuals/videos for me…to illustrate the types, just watch one.  Now since I can't come to you and walk around and point out the clarks, scotts and rogers (at least not yet…)
Hey! what do you think about a travelling seminar on the Wakefield Doctrine?  I mean really, cable television has actual 30 minute long infomercials and PBS (don't get me started on those rogers), but I've been hearing more and more ads on the radio for programs that "will change your life", just send for the free  DVD and find out how you can "feel better, be better, blah, blah, blah (improved stamina) better",  just because the person on the radio says that she can help you…but only if you pick up the phone. (Here's an odd little aspect…on the radio (where it is voice only, of course) the pitchman is usually a woman, on TV it's a guy.)
Doctrine Pop Quiz  (…" heyyy, you never said anything about a quiz!!" )  don't worry, real easy.
Question 1:   These women pitchmen (sounds better than pitch women or pitch person or pitch thing) are all of a type. Which of the three are they likely to be?
Question 2:   If it is in a purely visual medium, TV or what not the pitchman is just that, a guy. Which of the three will they almost always be?
Take your time…I'll wait…don't over-think it. (Hint: your first guess on the first question is correct, but your first guess on the second one is…wrong!  Sorry, just the way people are…you have another 90 seconds…(so, would you pay to see?…wait, let me answer that…you would pay a "second time" to see a scott and a roger but not a clark, however, the first time, you might pay to see all three…)…times……up! Put down your pencils/fingers!
Honor system, let's check those answers.  Britney?  ( …"err, (damn…where is that wi fi) Yes? me? 42!" )  No, sorry Britney, Literature is next period.  Miss Sullivan?  ("…scott and roger!") Correct!  Does anyone want to tell us why?  …alright then, it will have to wait until next week.
…back to (*Found it!  from up above)…  I found the film clip that is a totally un-mistakeable illustration of a scott (and a clark). Here watch:
What is the deal with clarks and scotts? good thing I'm so secure  these days or I would be getting totally Ed Sullivaned by the representation of the clarks (in these examples of scotts) DeNiros not a clark, is he?
So, what did we learn today?  That female pitchthings are almost always scotts and "on camera" pitchmen are nearly always rogers. (except that Sham Wow guy, jeez just a little scottian, no?)
The 'why' of this is totally easy as to the scottian women (I'm sure Ms AKH will be happy to enlighten us on that…) but the preference for rogerian males is a little more difficult.  Any volunteers?